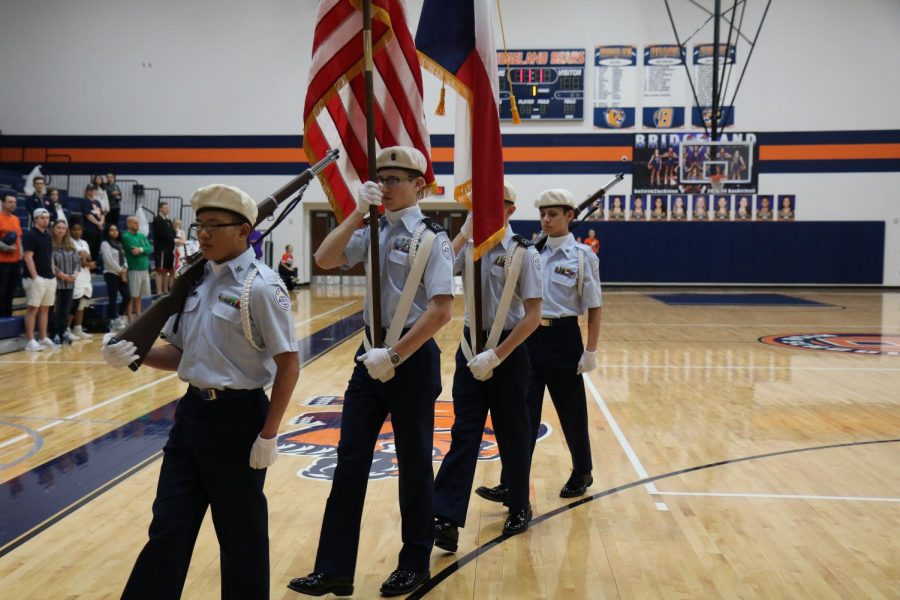 Alexandra Thompson
Major Don Bailey, a representative from the Air Force for the Air Force Junior ROTC (AFJROTC) program visited November 30 to conduct an inspection and meet with a committee to pursue a campus charter. Currently there are four Cypress-Fairbanks High Schools, including Bridgeland, waiting to receive their own JROTC program.
CFISD's JROTC program operates under the United States Air Force. With the limited budget given to them by the government, the Air Force is only able to open and operate a certain amount of charters. This means that they are only able to open a new charter when one closes in a different school. The waiting list determines which school will be the next to receive the program. So far, Bridgeland's place on the list is unknown.
"We don't have any insight into their decision process and can only hope that sometime in the near future that Bridgeland will receive their own unit," Captain Scott Thomas said, a JROTC instructor at Cy-Fair High School. Bridgeland ROTC students are under the direction of Captain Thomas and the other Cy-Fair ROTC instructors.  
The JROTC program gives schools a rubric to follow when preparing for their survey. It includes things like support from the community, proof of extra-curricular activities, evidence that the school can provide extra funding for program activities, and more.  
Administration worked hard to be able to meet the requirements on the rubric with hopes that the school could be placed higher on the waiting list. Principal Mike Smith received letters in support of the program from United States Congressman Michael McCaul, and Texas Representative Mike Schofield. He also invited the presidents of Bridgeland's retired veterans community to come out to the school. All of this was done to try and maximize the number of points the campus would receive in the community support category.
An on-campus ROTC program holds many benefits for the student body, including building leadership skills, providing activities they can get involved in, teaching integrity and so much more.
"Air Force JROTC provides another means for students to give back to the school community. The curriculum focuses on leadership development, discipline, service and integrity," Mary Jadloski, Assistant Superintendent of Curriculum & Instruction, said.
According to Captain Thomas, ROTC programs generate students who work in a multitude of industries.
"We get a chance to work with the future generations who will one day be the teachers, firemen, policemen, doctors, nurses, lawyers, cooks, janitors, etc. of our society," Captain Thomas said. "I don't know who wouldn't be excited about having that opportunity each and every day and to work with high school students and hopefully have a positive impact on the future generation."