Two staff members kiss goat for FFA fundraiser
The bleating of a goat. The screams of the crowd. It was time. With Cheetos in their mouths, two staff members who had been nominated by student votes approached the goat and leaned in for the kiss. 
As a fundraiser, FFA organized a "goat kiss" challenge where students donated money for a teacher or administrator to kiss a goat at the Forthcoming pep rallies on Friday, September 27.
Students placed their votes by dropping a dollar into the bucket of the teacher they wanted, and the buckets with the most money had to kiss the goat. The winners were announced to be Mrs. Keene and the library hedgehog, Bentley. As a surprise, the second place winner, Mr. Donald  Stanton, also had to kiss the goat in the second pep rally
In all the FFA chapter earned $280 dollars from the fundraiser to go towards their trips and contest registrations which can cost anywhere from $600 to $1,000. The program hopes the fundraiser will become a tradition and maybe even include other animals like pigs in the future.
"In all I feel like we were successful. And then hopefully next year, maybe we'll make this a tradition," Mrs. Amanda Neuendorf, FFA advisor, said, "And the next year, it'll bring it even more money for our chapter."
When Bentley proved to be too shy to kiss a goat in front of so many people, Mrs. Keene stepped up to the plate. 
"I thought it was funny to even be nominated, but I know it was all Bentley and not me," Mrs. Keene said. "Students love him and I'll "ride his coattails" because kids come in the library to meet and see Bentley. It gives me a chance to meet more kids, talk books with them, and make connections."
Surprise winner, Mrs Stanton wasn't expecting to have to kiss the goat, especially since he is one of the new members of administration. 
"My vote would have been probably, Mr. Beyer or Mr. Grigsby," said Mr. Stanton, "They've been here longer than me. So I thought they should have had to do it instead."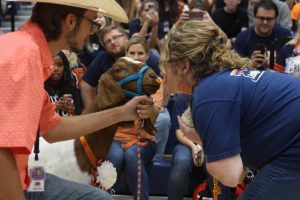 Both received a Cheeto in order to coax the goat, Ranger, into kissing them. Cheetos happen to be Ranger's favorite treat, but they did next to nothing to convince him to kiss the two winners.
"When we were on the floor at the pep rally, Ranger, the goat, was not interested in the Cheeto. He wanted to sniff Bentley," Mrs. Keene said. "One little poke on his snout and he was no longer interested in him. I ditched the Cheeto and just kissed the goat. It wasn't gross, but he smelled like goat."
About the Contributors
Olivia Masterson, Entertainment Editor
Olivia Masterson is the Entertainment Section Editor as well as the Multimedia Editor for The Bridge. She is currently a junior at Bridgeland High School...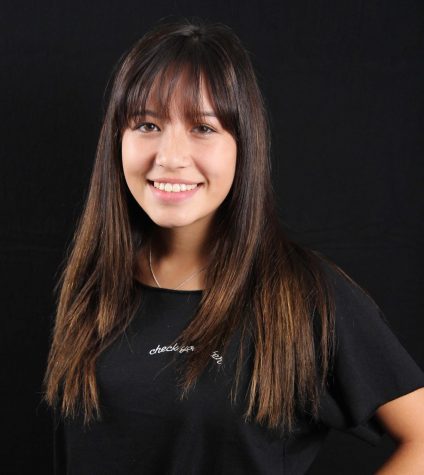 Makayla Nguyen, Sales & Marketing editor
Makayla Nguyen is a sophomore at Bridgeland High School and aspires to be a nurse practitioner. Ever since her birth in Houston, Texas, Makayla has focused...