'Picture Perfect' Teacher of the Year
Photography teacher given top award
"Awesome! Great!"
Are just a few words that came to mind when photography teacher and all around fan favorite Juan Guevara – affectionately called 'G' –  found out about his Teacher of the Year award. But these are also the same words crossing the minds of his many students in reference to his class, knowing that each day brings a new lesson filled to the brim with creativity and passion.
Each year schools across Cy-Fair ISD engage in a challenging selection process to honor an educator who exemplifies what it means to be a dynamic teacher who truly represents a school's values and caters to all students. Director of Instruction, Mrs. Michelle Provo serves as a deciding hand in the process to narrow down the search for the deserving winner.
"Mr. [Michael] Smith is the leader of that, because ultimately he gets to make that decision of [Teacher of the Year], but he likes to involve his entire [administrative team]. The way we've typically done it is the cabinet ; which is myself, Mr. Smith, lead counselor Ms. [Shayla] Rodriguez – Bell, and the associate principal Dr. [Yolanda] Sneed and Kim Collier try and think of teachers that have really contributed in a whole, big global way," Mrs. Provo said.
Winning means more than just the celebratory ceremony and well-earned bragging rights, it means that for the year the selected teacher serves as a model for what the school stands for and signifies all the hard work and dedication that goes into the job, according to Mrs. Provo.
"You are representing us, the whole entire building, the staff. You are, as we would say sometimes 'above reproach'. You excel in every aspect, you build great relationships with kids, and you go build great relationships with your teammates. You set the rigor where it needs to be in the classroom where our kids are excelling education-wise,"  Mrs. Provo said. "You don't mind giving up your extra time to support kids by sponsoring things so as a whole, you represent that entire picture of what a Bridgeland teacher looks like."
Students in Mr. Guevara's classes can all agree on the impact he makes on their lives when they step into his classroom, each lesson and activity an open invitation to explore independent expression and freedom. Sophomore and advanced photography student Alexis Flores values the space to work and the fitting advice that comes with it.
"He doesn't limit us. He gives us one thing and he lets us run with our imagination and interpret things how we want to," Flores said. "He lets us do things, like trial and error. He'll give us an assignment and walk us through it the first few times, and if something doesn't go right, he says like 'that's fine, that's how you make better things is by trial and error.'"
All that he puts into the job that he loves every single day does not go unnoticed. Hours spent around the scent of photo chemicals and the stain of a red pencil over a sheet of freshly taken pictures mark the unfailing care administered to each and every eager child under his tutelage.
"His class makes me stressed sometimes, but in a good way because I want to put out good products and make him feel like his teaching has made me a better photographer," Flores said.
With easy smiles and a teacher who never hesitates to help, class with Mr. Guevara is hardly a typical one. G's enthusiasm is enjoyed and met by his class and the open trust formed there is a comfort.
"He's very happy and easy going," Flores said. "You can talk to him about normal things and photography things. He just gives off a good energy."
One of the best things about Mr. Guevara is the special joy for photography that he shares and encourages in his students and it makes all the difference in defining him among a staff full of wonderful teachers. Second year photography student and junior Jenna Tuczynski-Price identifies with this love for the art, and his heart and drive is what sets him apart in her eyes.
"
My high school photo teacher changed my life forever. And I knew that I wanted to do the same for others, kind of the same way he did for me. He's the reason I do what I do."
— Mr. Juan Guevara
"He definitely deserves it [Teacher of the Year]. He's one of the best teachers that Bridgeland has to offer," Tuczynski-Price said. "Photography is definitely a passion of mine and Mr. G has definitely helped me grow and figure out what I need to do as a photographer."
The environment in a classroom really sets the pace and defines what a teacher and their classes are. Mr. Guevara facilitates a certain warmth that makes it all the better for the boundless learning that takes place every day. David Da Silva, a junior and photo three AP student takes on risks and challenges under the careful guidance of a great teacher.
"He's really encouraged me to go out of my comfort zone and to try new things with photography," Da Silva said.
In the eyes of his students, Mr. Guevara passes all the tests and fits the role of a teacher who deserves all the awards, but ask him and he would humbly have to disagree.
"Speechless is the primary word. I was surprised that they chose me because I always thought spotlight teachers were like this perfect picture of what a teacher is supposed to be." Mr. Guevara said. "I'm just glad that I'm in the place that prioritizes our passion for what we teach the students and it just kinda reaffirmed that."
A high school photo student alumni himself, Mr. Guevara knows exactly the impact a good teacher can have on a kid. Without any hesitation the exemplary teacher isn't quick to forget his roots.
"My high school photo teacher changed my life forever," he said. "And I knew that I wanted to do the same for others, kind of the same way he did for me.. He's the reason I do what I do."
Every day Mr. Guevara holds true to that goal and knows the different ways all his efforts pay off when he sees that light bulb moment in his students' faces.
"Having students realize that they are more capable of what they thought they were able to do [is] kind of opening up that doorway for them to walk through to allow them to be creative, to surprise themselves and impress themselves, that's the most rewarding part to see them come back like 'Oh my gosh, I actually feel good about this,'" Mr. Guevara said.
There's a certain value in having a place to come to when things get difficult. and students of Mr. Guevara are assured just that when they sign up for his class, a class of all different people and the singular love and sense of family that resides there.
"I try to keep it fun and keep it entertaining, and I try to make it a place that you guys can come and feel like you can get lost in the work and escape some of the pressures you might feel in your other classes," G said. "It is controlled chaos of sorts, it's you know, a lot of moving pieces. There's people in the darkroom, there's people at my desk or working on stuff at their tables. It's just like this massive machine and our big thing holding us together is making pictures and making photographs."
Looking ahead, G sets the precedent of what a well-rounded teacher and support system should be. Teaching his kids with real-life lessons outside of the traditional classroom lecture is what defines him and says a lot about what it means to be a real Teacher of the Year.
"Don't be afraid to make mistakes, that's number one. There's a lot of failure that happens in my class, but it's not the conventional like ' You get a F failure.' But you've got to learn to accept that and move past it," he said. "So my big key to student success is you got to be okay with things not going the way you want to but being able to come up with a plan to move forward and move past it and grow and be better."
In addition to winning Teacher of the Year, Mr. Guevara and his wife Stephanie welcomed their first child, Ella Grace, on January 9, 2019.
About the Contributor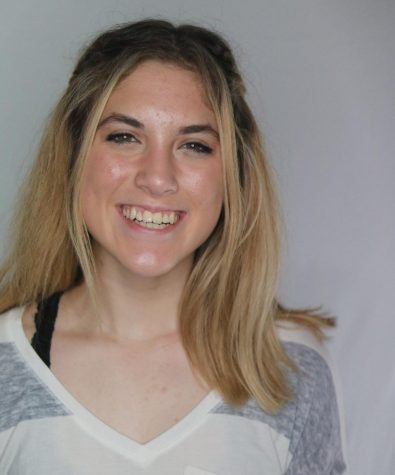 Kaiya Little, Online editor
Kaiya Little is a junior and second year newspaper staffer. Kaiya wants to go to the University of Oklahoma or University of Texas and has dreams of being...