Don't count us out
Why Bridgeland will be great
Lack of experience, too young, and it's simply too early.
These are just a few reasons critics said Bridgeland's varsity football and basketball programs wouldn't be significant competition in a tough 6A district.
In a way, they were right. But come next year, they could be equally as wrong.
There were also some similarities between the two programs, even though they're on two completely different sides of the athletic spectrum.  For varsity football, expectations weren't too high.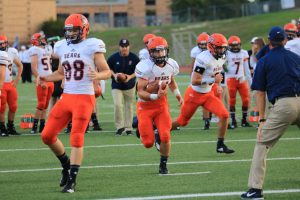 After a rocky 2-7 JV season, it wasn't hard to think poorly of the Bears coming into their varsity year. With a lot of starters coming from the freshman A teams, it just added to the potential reasons this first season wouldn't be pretty.
The 2-6 record in district play wasn't what anyone wanted, but there was still some light among the darkness, as potential for an elite passing game and strong secondary emerged. Under Armour All-American quarterback sophomore Finn Nicholson lead the way on the offense, throwing for 2480 yards and 24 touchdowns. Fifteen of those went to another Under Armour All-American, wide receiver sophomore Dylan Goffney, who added 993 yards on 52 receptions. Alongside Goffney, Nicholson's options include Tyler Stott and Atrevion Hunter, who combined for 982 yards and five more touchdowns. With the addition of big tight end sophomore Dylan Crippen, the Bears could pose problems for opposing secondaries.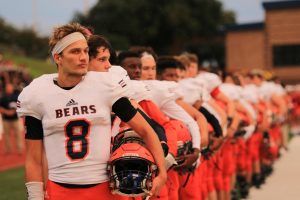 But don't forget about the backfield, as the speedy and agile sophomore Gavan Kaspar is dangerous when in the open field. He rushed for 604 yards and seven touchdowns this season, four of which came in the 48-19 rout of Waltrip. He's been spending his offseason working at All-En 7-on-7 football, and is ready to come back stronger next year.
"I've been in the weight room getting stronger," Kaspar said. "My character too, got to bring energy to the field."
The defense does need a bit of work when it comes to closing games out. They would start games out well, but then got tired heading into the second half. That doesn't mean there's no potential there, as defensive coordinator Coach Dale Williams has the ability to whip them up into shape. The Bear's secondary is loaded with talent. They've got the trio that includes Under-Armour All-American sophomore Bryce McMorris, alongside sophomore Jack Grier and sophomore Kamren Amao.
"I'm going to try and bring more energy than we did last year," Grier said on his offseason improvements. "Try to keep everyone up and positive, and bring a lot of football IQ."
On the front side, William's defense is full of potential. Junior Weston Cadena and sophomore Connor Motsinger are both threats all over the field, as they combined for 95 tackles, the two leading tacklers on the Bear defense. They've also got sophomores Mine Imarah and Logan Garthside pressuring the quarterback. With time, this defense could be a dangerous threat on both sides of the playbook.
With Coach David Raffield at the helm, it'll be up to him and his coaching staff to turn this team around from a rough start. It'll be interesting to see the changes that will come with this offseason, and with the first senior class and a strong junior class coming in next year, watch out for Bridgeland in 6A competition.
On the opposite side of the spectrum, the Bears basketball program had a similar start in varsity competition, finishing 2-14 in district play. While the record doesn't show it, the young squad is full of potential.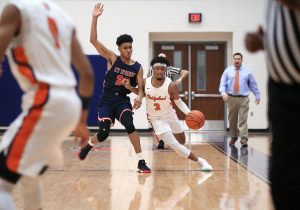 Junior Cam Clardy was the only player on the team with varsity experience (at Cy Lakes) heading into the year. And he used that to his advantage. The 6 foot guard led the young team in scoring (17.0 ppg) and assists (2.6) throughout the course of the season.
But Clardy wasn't the only junior who had himself a year. Junior guard Alex Butler and junior forwards Nate Weeks and Caleb Caesar dominated in the starting lineup, as well as Cam's younger brother, Jordan.
Butler, Caesar, and Jordan Clardy combined for 111 threes, while Cam Clardy and Weeks preferred to take it to the rack, combining for 494 points inside the three-point arch.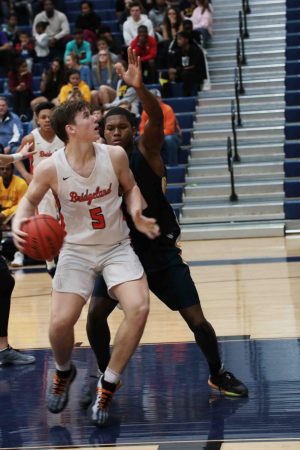 "Everybody's going to get better over the offseason," Butler said. "We're really looking to improve our offense and our defense more importantly, because if they can't score, they can't win."
Their two offensive priorities are getting to the basket, with drawing a foul being a bonus, or kicking it outside for a quick three, as they've got three sharpshooters, as well as Clardy and Weeks occasionally. Head coach Mitchell Doty worked with assistant coach and former Wayland Baptist guard Jason Griffin to develop the offensive scheme.
"On the offensive side right now we're looking at the things that we did well, and of course the things we need to improve on," Doty said. "And also in ways we can add it and make the offense more diverse."
Defensively, they struggle a bit on the help side and sometimes would not be able to secure any rebounds. However, guard Ira Cunningham and forward (as well as cornerback for football) Kam Amao both played rigorous defense, plus junior Austin Wesneske using his strong frame to pull down a some rebounds.
Their defense is planned out by freshman A coach and former Cy-Woods assistant coach Lance Voelkel, who's always up and energized on the bench, and is known for rewarding Skittles to players who draw charging calls.
"I've never used the term Skittles until this year, and it kind of just stuck with this team," Voelkel said. "In years past I've always tried to reward players for taking charges during games because it is a game stopper."
With Doty emphasizing the use of the weight room this offseason, you can expect the Bears to come back with more muscle, as well as continuing their improvement on their three point shooting and defense. Plus with 6'9 Jason Frost coming back into the lineup, it gives Bridgeland a stretch big who can stay solid on defense and the boards as well.
Neither of the teams' athletes are satisfied with the first year's results. But next year brings opportunity for the programs to bounce back from a rocky start. I'll be keeping you covered all of next year.
Leave a Comment
About the Contributors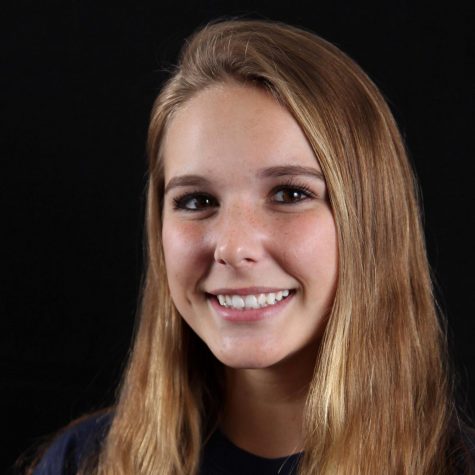 Lilly Kosh, Sports Editor
Lillian is a reporter for BSM and class of 2021. She is involved in the softball club and loves camping, hunting, listening to music, and sports. After...