Take it or leave it
Students reflect on what fashion trends they want to take to the future and leave in the past.
Fashion changes rapidly from decade to decade, year to year, and season to season. What trends should we take to the future and what should we leave in the past?
Tiny sunglasses- I love fun and dramatic sunglasses as much as the next girl… but come on. These things are flat-out impractical. They don't block any sun out of your eyes and all I think of when I see them is the librarian from "Monsters, Inc." For me, I'd much rather protect my eyes than look like a monster librarian. Lauren disagreed with me on this trend, saying, "I love tiny sunglasses. They're so cute and they look so bratty and fun. They really add statement to lots of outfits."
Animal prints- These cute and sassy prints will never go out of style. NEVER! They make people feel confident and spicier than usual, as well as maintaining sophistication. They are always being made in a different way which is another reason why they will never die. Lauren and I are both animal print fanatics and she said, "I live for animal prints, so early 2000s. I feel like animal print is iconic because its timeless. It never really goes away. It's always on trend and you can never go wrong with it."
Sock shoes- This trend honestly makes no sense to me. Why would someone put on socks then put on another pair of socks that also happens to be shoes? Supporters of these shoes say they're insanely comfortable but other good looking shoes can be comfortable too. In my honest opinion I hope these shoes stay in 2019 and don't come back to kick us in the future. Compton and I agreed a lot on this trend because she said, "Sock shoes are absolutely disgusting and make people look like they have horse feet, looks good on absolutely no one."
Bike shorts- Most bicyclists can't even make bike shorts work, so why would someone that doesn't have to wear bike shorts do it willingly? I understand that maybe they're comfortable, but at what cost does comfort come at, they don't match anything except a biking shirt and most people that are wearing these are not even athletes. Compton agreed with me on this one, that biker shorts are no good. She said, " I hate biker shorts so much. They look so unproportional no matter what you wear with them and they sit at an awkward length."
Statement jackets- A fun jacket can do so much for a look. Putting it over a T-shirt can transform a look from boring to spectacular. In men's and women's fashion and in the past years, chic jackets have been everywhere, and I don't think they'll be going anywhere. After all, people are always going to be cold so why not take take winter and make it as hot as possible through a fabulous jacket. Compton agreed with me and said, "I also love dramatic jackets. If you wear something simple underneath, it pulls the whole look together and makes you stand out so I appreciate it because you could have the most minimalistic outfit, but if you throw on a jacket you stand out."
Denim- Whatever kind of denim is I love it, from plain ripped jeans to a fabulous denim skirt. I love how easy and versatile it is. I think denim will never and should never die. There's so many creative ways to wear it, change it, and make it your own. Along with that, it's also so comfortable,which provides a bigger audience than just fashionistas. All in all, denim is the best to wear for any occasion. Thank you, next. While I gave my piece Lauren gave hers and said, "I love denim when it's done right. I feel like cheap denim is one of the ugliest things in the world and I hate skin tight jeans,they look so uncomfortable and unflattering."
About the Photographer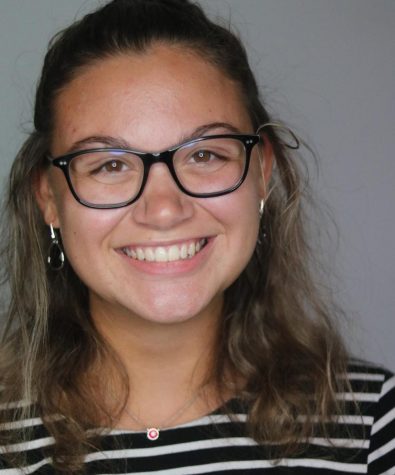 Della Fowler, Photo and graphics editor
Della is a junior and this is her second year as a member of Bridgeland Student Media. In her time away from the journalism room, she is a section leader...