Everything you need to know about Forthcoming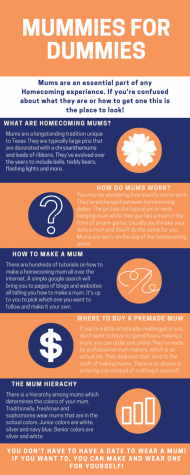 Forthcoming Festivities are here. Dresses, ties, proposals. Plans are being made. So what do students need to know about the whole event? 
Spirit Days/Pep Rally:
With more than 3000 students, the pep rallies will work a little differently. This year there will be two rallies on Friday, which is also the day of the forthcoming game. The two rallies will be divided by whatever side of the atrium each class is on and feature performances from the cheer team, the Bridgeland Belles and more! Students should sit with their graduating class. There will be signs indicating where each section is. A new tradition for the pep rallies are class yells which will take place at the end.
The Football Game:
The forthcoming is a must have tradition for any high school. This year the game will be taking place on Friday at the Cy-Fair FCU Stadium. The Bears will face off against the Cy Woods Wildcats. The game starts at 7 p.m. and features the Forthcoming court walking onto the field and a performance from the band after the game is over. Game day is also the day the students wear mums to school which means they can wear them to the game as well.
The Dance: 
The dance takes place on September 28th. The theme this year is "Under the Stars." There will be a chip and candy snack bar in the back along with water. 
Addressing the shoe problem from last year. There will be no solution in order to remedy the issue of shoes being lined up along the walls. Students are expected to keep track of their own shoes or wear the heels for pictures and put on comfier shoes for the actual dance. According to Assistant Principal, Jill English all the students from last year's dance picked up their stuff and no shoes were left behind.
As for the dance dress code it won't be the same as the usual day to day. "We understand that most of the formal dresses aren't going to follow the CFISD dress code," said Mrs. English. "So we understand that it's a special occasion."
The Parade:
The Forthcoming parade is another big part of the tradition. The size of the parade depends on student participation. All of the students from Wells will also be joining to watch the parade. 
After 8 a.m on Wednesday floats can be parked in the bus lot for decorating. All students who will be participating in the parade will be released at 1:30 p.m.
About the Contributor
Olivia Masterson, Entertainment Editor
Olivia Masterson is the Entertainment Section Editor as well as the Multimedia Editor for The Bridge. She is currently a junior at Bridgeland High School...