State accountability ratings give Bridgeland 'A' rating
The state education accountability rating is used as a device to compare student and teacher performance on testing. Bridgeland High School scored a 95 out of a possible 100. Along with this rating being exceptional, it was also the highest-scoring high school in CFISD for the 2018-2019 school year. This scale is based on EOC scores, career readiness and student growth from test to test. 
"That's what we have been striving for," Mrs. Breana Smith, academic achievement specialist, said. "That's everything we've put in place, the push to being the 21st century school, the push for our teachers to do and use technology as a tool to support the learning. Everything we've put in place since we opened has been to reach this goal."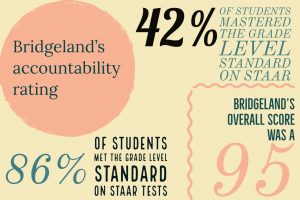 Student commitment to their education is evident. In fact, 95% of students approached the grade-level standard or scored above it on last year's STAAR tests. Along with that, 42% of students got a masters achievement on STAAR tests.
"[This shows] the things we already know about Bridgeland students; they're driven, they are dedicated, they take their education seriously, they are prepared, they put in the effort both in the classroom and outside the classroom to be excellent every day, they make choices and sacrifices so that they can win the day and perform well when they are asked to," Mrs. Amanda Horton, English department chair and campus instructional coach, said.
Student attribute a large part of this success to the quality of instruction. 
"I feel so honored to have a wonderful opportunity which is represented by the accountability rating that our teachers are the best in the district," honor roll student Amelia Davis, junior, said. 
  These accountability ratings are very important to CFISD's Assistant Superintendent of District Improvement and Accountability, Ashley Clayburn. She explained that although CFISD did not reach their goals of an A-rating at all campuses in the 2018-2019 school year, they are working hard to progress for the current school year. 
"I think it says that our board of trustees has set out for us lofty goals to ensure that all of our students are successful," she said.
   Every year, teachers create a campus improvement plan, and the staff and administrators don't plan on slowing down anytime soon. Administrators and teachers have already implemented strategies for students to better their scores. This 95 is just a starting point according to Mrs. Horton.
   "It's a really, really, really big deal," she said. "We expected us to be in the A-rating, but to be at a 95 is phenomenal. It's a testament to how hard our students work and how hard our teachers work and the idea that we make every day matter and we add value every day to what our students learn. It's a huge, huge undertaking and something we should be immensely proud of as a campus."
About the Contributor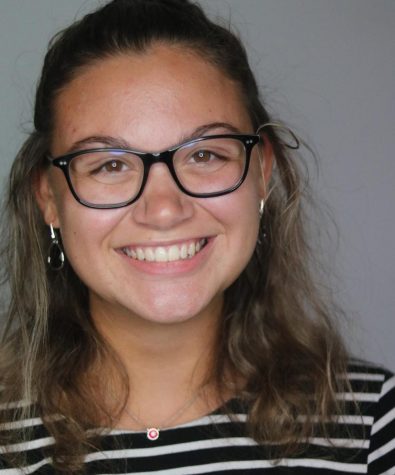 Della Fowler, Photo and graphics editor
Della is a junior and this is her second year as a member of Bridgeland Student Media. In her time away from the journalism room, she is a section leader...