A picture is worth a thousand miles
Cara Hudson nominated for national photo award
"Do you even know how proud of you I am?"
The words carry and her shoulders shake. 
Cara Hudson stands in front of some of her biggest supporters as she finds out she's been nominated for something big, and in a few months time she will stand in front of them again, this time on a stage thousands of miles from home. 
Her best friend continues to grip her arms as the news sinks in.
Maybe this was more than a good photo and maybe she was more than a good photographer. After all, the title 'Photo of the Year finalist' has a pretty nice ring to it as well.                                       
Expectations had sat on her shoulders as Hudson went out of her way to a photo assignment so far from the usual requirements. These expectations were all her own, of course, she didn't need to photograph this specific wrestling match, she didn't need to brave the away meet, but there she was.
She had to take the shot. There was no question really, because when it came down to it, this was never about her. The picture perfect moment she came to find was for her staff back home- her best friends, her family.
"In journalism, photography is like an assignment, but I've always loved it anyways," Hudson said. "A lot of it is just trying to think about what would be great specifically for the yearbook."
Rain poured every step of the way before she finally found her way into the shelter of the gym, late and lost among the sea of school colors. This particular match was at Seven Lakes High School, where the students bore Hudson's very own orange and blue.
"It didn't seem like the evening was going to turn out very well," Hudson said. "I was stressed and uncomfortable and I wasn't sure what I was doing."
On the floor, surrounded by strange faces, Hudson grounded herself in all the action with her eyes pulled towards a boy she'd never seen before. There was something different about him and she knew this match- this photo- was like no other.
"I was just thinking, 'Wow, he's so strong and fast.' I was going through my photos in between sets and I noticed that he only had one hand. It obviously piqued my interest and I was so enthralled in the rest of the match that I couldn't focus on anything else," Hudson said. "It felt like I was wrestling with them I was so into it."
Despite the feeling of everything going wrong, Hudson is reminded of the ways that she can speak with an image, crafting the tale of one of the stories she likes to tell best, watching as it all unfolds on the wrestling mat.
"[There's] something about just being able to focus on the two people wrestling," Hudson said. "It's a lot more intimate to watch and you really feel like you're able to put someone in the moment when you're watching through the lens. It's a lot more special to me."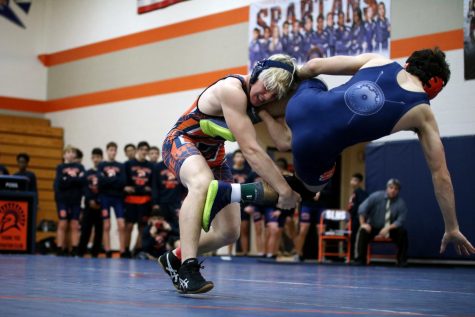 Hudson's got a lot of things running through her head as she looks for the right shot. In every photo and every click, she recalls words from her advisor to capture more than the main event. She had to capture the emotion there too.
"Every time when we look at great photography, it's always a picture [that]  will make you sad or happy, or make you feel like you're there with whoever is in the photo," Hudson said. " I think a great photo is mostly about how it makes someone feel."
Moments like these make it easy to remember the version of herself who joined yearbook in the seventh grade, a trial by fire by all means. Now a junior in high school, Hudson reflects on the journey she had to take from what she would consider bad photography to making something worthy of national recognition.
"I kind of was just thrown into it, and I had to learn. I was forced to learn how to use a camera," Hudson said. " And then sophomore year, I took actual photography class along with journalism, and it really opened my eyes to how art photography and action photography can correlate and work together to create even better images."
Ask junior Aniyah Steele what she thinks is happening as she steps into class to find her best friend's mom waiting and words wouldn't come.  Turning to the board and seeing the announcement displayed though, that's when it all clicked. All of Cara's hard work was coming together and Steele had been there from the start.
"You know, last year, we'd be in the car, just crying about how awful things were. And she's come so far, and I've just been so proud of her," Steele said. "It makes me so happy because she's always been a good photographer. It's just now she feels more confident about it."
The realization of the weight of the title isn't lost on Steele as she celebrates her best friend with their staff. The first national win of many to come, and for every individual award, the journalism program grows into its own too.
"I feel like it means that we're making big moves and that we're advancing. We're advancing at a pretty substantial rate," Steele said. "We're doing big things."
Soon, the whole country will see Cara's talent, the talent that Steele had seen all along. All the crying, the laughing, the hour long photo assignments, and every cool down after an angry rant had shaped up to this. And at the end of all of it was the barest bones to make it all worth it, the support of a friendship and the bond that defines it.
"My best friend," Steele said. "We're like peanut butter and jelly."
Celebrating Cara isn't a hard thing to do when she never hesitates to celebrate other people too, journalism advisor Samantha Berry has taught Hudson for three years and notices the culture she creates without fail in the staff.
"Cara has this unique ability to be everyone's best friend. Like, I don't think that a lot of people in the world have that. I think people are very small tribe minded," Ms. Berry said. "But the thing about Cara, is she's not a collector of people, she's just that good to people."
Lots of things crossed Ms. Berry's mind as she received the news of Hudson's nomination, along with this being a first for the journalism program that had been built up from nothing, this was also a first time national award for her. More prevalently, the satisfaction of winning came from something more rewarding than the name and status and instead came from the joy of hard work.
"I would tell her how proud of her I am and that is not proud because she made me look good, I'm proud of her because she is making her dreams come true," Ms. Berry said. "She isn't someone that just casually came into this."
From the moment Ms. Berry stepped inside the doors of a new journalism room at a new school to gripping her phone with shaking hands at a gas pump while the words of photo finalist looked back at her, she knew what her kids were capable of and that was written on their faces as this time she stood before Hudson to tell her the news.
"The biggest thing is that they every kid in this program says yes. And they go and they chase," Ms. Berry said. "They chase greatness and in doing so they create great things."
A win for Hudson feels big, it feels like a dream. This dream isn't hers alone though and as she builds a name for herself, she always plays for the name on the front. Together, they get the good and the bad news, and together as with everything else, they win.
"Of course, it's nice to be able to say this is a thing I've done but honestly, it means more that I'm getting the name of bridgeland out there more," Hudson said. "Our media staff has had to work so hard to create a presence that amounts to years of program-building that other schools have."
At the end of it all she's still shaking. The announcement keeps ringing like it's meant for someone else and the eyes of her friends and family press onto her skin. Soon the stares will more than double in size and she'll be pinched awake, but for now she snaps back into the moment and into the room where it all began.
"It felt like something that I've always looked at as an outsider, like I could look at great photography and admire it, but now I guess I'm able to say that I'm a good photographer," Hudson said. "It still feels surreal, I don't know if it will even feel real when I'm getting handed my award in front of all those people."
Leave a Comment
About the Contributors
Kaiya Little, Editor-in-Chief
Senior and third year reporter, Kaiya Little, is the first Editor-in-Chief of The Bridge. She hopes to major in communications and write for a publication...