Travis Scott's Astroworld Fest satisfies fans and native Houstonians
Rap fan reviews Travis Scott's much awaited music festival.
With over 50,000 expected to attend, Astroworld Fest was not a disappointment. Despite the unorganization of entry and space for lines, Travis Scott's event was overall an amazing festival.
Being a Houston native himself, Travis Scott knows how to throw a party. With a lineup of diverse artists such as Sheck Wes, Playboi Carti, Marilyn Manson, Rosalía and The Houston Allstars, Scott kept fans guessing. Scott also brought out many special guests, including Kanye West, Gunna and Swae Lee which topped off the list.
Scott had two different stages named Thrills and Chills that were distant from each other causing fans to run back and forth to see different artists. Performances were 30 minutes each excluding Scott's, which was 75 minutes. 
Injury
Travis is known all over for his energetic performances, during day one of "Rolling Loud NYC" ,Travis took a nasty fall. 
In Travis's words, "I ain't [going to] lie I think I just broke my knee right now, but the show must go on." 
With the injury happening a few weeks before Astroworld Fest and the question of surgery, many were worried the event would get cancelled or he would not be able to perform, but as Scott said, The show must go on.
Merchandise and Amenities
When there is Travis Scott, there has to be merchandise. Always keeping people guessing, Scott had released a very different style of merchandise this year with various items such as water bottles, lighters and even blankets. Prices ranged from $15 to $200, making it affordable for many. Unless you are a track star, you waited many hours in lines. Many people walked out with hundreds and even thousands of dollars worth of merchandise some walked out with just a T-Shirt as well.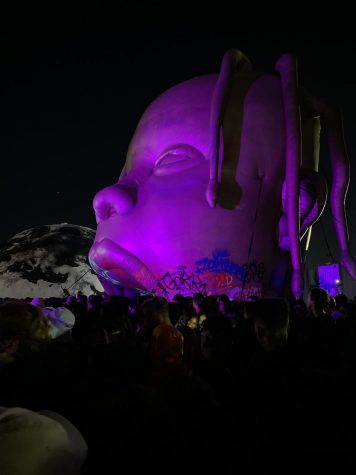 With many expected this year  Scott made sure to have all of the necessities and more, with many hydration stations, food trucks and even carnival rides, and as an Astroworld fanatic it was satisfying to see the history behind every small detail.
With many hoping Scott brings back the festival for a third year in a row, the cost for what you get is a great return on investment. Despite entry hitches and merchandise lines, Astroworld Fest is a must.