Your guide to the 2020 Best Picture Nominees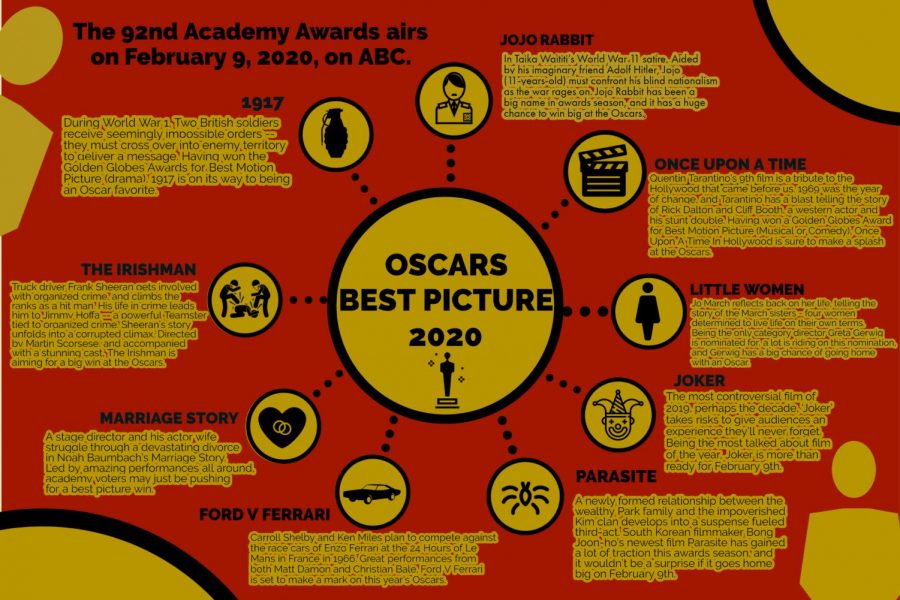 The 92nd Academy Awards air on February 9, 2020, on ABC.
"1917"
During World War 1, Two British soldiers receive seemingly impossible orders — they must cross over into enemy territory to deliver a message. Having won the Golden Globes Awards for Best Motion Picture (drama), 1917 is on its way to being an Oscar favorite.
"The Irishman"
Truck driver Frank Sheeran gets involved with organized crime and climbs the ranks as a hitman. His life in crime leads him to Jimmy Hoffa —  a powerful Teamster tied to organized crime. Sheeran's story unfolds into a corrupted climax. Directed by Martin Scorsese, and accompanied with a stunning cast, "The Irishman" is aiming for a big win at the Oscars. 
"Once Upon a Time in Hollywood"
Quentin Tarantino's ninth film is a tribute to the Hollywood that came before us. Set in 1969 – a year of change, Tarantino has a blast telling the story of Rick Dalton and Cliff Booth, a western actor, and his stunt double. Winning a Golden Globe for Best Motion Picture (Musical or Comedy), "Once Upon A Time In Hollywood" is sure to make a splash at the Oscars. 
"Jojo Rabbit"
In Taika Waititi's World War 11 satire, aided by his imaginary friend Adolf Hitler, Jojo (11-years-old) must confront his blind nationalism as the war rages on. "Jojo Rabbit" has been a big name in awards season, and it has a huge chance to win big at the Oscars.
"Joker"
The most controversial film of 2019, perhaps the decade, 'Joker' takes risks to give audiences an experience they'll never forget. Being the most talked-about film of the year, "Joker" is more than ready for February 9.
"Little Women"
Jo March reflects back on her life, telling the story of the March sisters – four women determined to live life on their own terms. Being the only category director Greta Gerwig is nominated for, a lot is riding on this nomination, and Gerwig has a big chance of going home with an Oscar.
"Marriage Story"
A stage director and his actor wife struggle through a devastating divorce in Noah Baumbach's "Marriage Story." Led by amazing performances all around, academy voters may just be pushing for a Best Picture win. 
"Parasite"
A newly formed relationship between the wealthy Park family and the impoverished Kim clan develops into suspense fueled third-act. South Korean filmmaker Bong Joon-ho's newest film Parasite has gained a lot of traction this awards season, and it wouldn't be a surprise if it goes home big on February 9th. 
"Ford V Ferrari"
Based on a true story, Carroll Shelby and Ken Miles plan to compete against the race cars of Enzo Ferrari at the 24 Hours of Le Mans in France in 1966. Great performances from both Matt Damon and Christian Bale, Ford V Ferrari is set to make a mark on this year's Oscars.