Senior spotlight: John Hughes
Where he lets go on the stage, he picks back up on the football field. For his senior year, John Hughes just wants to make his legacy and do what he loves.
John Hughes has spent the past four years doing two polar opposite activities – theater and football. The strict discipline of football combined with the expression of emotion and creativity that is theater is the best of both worlds for him. 
"I enjoyed just letting myself go," Hughes said, "It's a good contrast with football."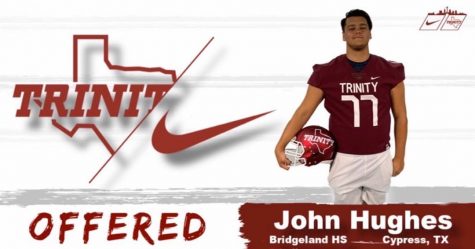 Football was something that Hughes simply picked up; he got into the game late elementary school and has adored it ever since. For Hughes football pushed him forward, causing him to make an incredibly important decision. To most people picking which college to go to is a daunting decision. Hughes chose Trinity University for his new home. 
"It was a very home setting you could tell that the players and coaches cared about you," Hughes said. "They wanted not only for you to be the best athlete as possible but the best person as possible."
Everyone aspires to do something in their life, and for Hughes its to make a change. His goal is to make a positive impact on as many people as he can. 
"I want to make sure that people are optimistic, that they walk in every day with a smile and know life gets tough," Hughes said, "but you can persevere and everything gets better." 
When all is said and done he wants to leave his mark on the world, a positive one.