After School Album Review
Total Review Overall: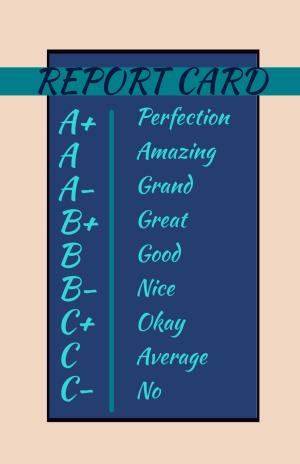 After School is an extended play (EP) released on Sept. 25 from Melanie Martinez. The EP consists of songs that are in line with the theme of her album K-12, which was about her personal experiences in school. The songs in this EP are not only personal and vulnerable to Melanie Martinez, but they are also more about her life experiences than her character 'Cry Baby.' The genre for this EP falls under both trip-hop and electropop.
Starting off, this album is a masterpiece of lyricism. Finding an artist who isn't afraid of taking on more difficult topics is hard to come by, but Martinez easily takes on that challenge.
While all the songs on this album embody Martinez's musical talent and artistry, there are two songs that stick out: "Numbers" and "Glued." Not only are they the most relatable songs on this album, but they are also the most pleasing to hear. Regardless, this album as a whole averages out to a B+.
Notebook
"Notebook" is the album's opening track. It is about Martinez's experience in one of her past relationships. More specifically, it's about her experience with being taken for granted and having to set boundaries.
This song opens the album up with the exact thing Martinez is known for – her definitive style of music and lyricism. Her voice perfectly matches this song, and it's almost as though listeners can hear her vulnerability in her soft pitch. A huge issue of this song is that there is no distinct bridge or 'wow-factor', which ruins the production. This song earns a C+.
Test Me
"Test Me" describes the ability to accept challenges as ways to gain strength and wisdom. This song also illustrates Martinez's belief that personal experiences teach more life lessons than classes at school do.
Right off the bat, this song starts off beautifully. The sound of a glass ball rolling around in a cup creates such a perfect opening and introduction into the song. Her ad-libs throughout the song are satisfying to listen to and come at just the right time with the beat. Additionally, her comparison of life experiences and school experiences under a religious tone is truly poetic. "Test Me" deserves an A for it's amazing comparisons and music.
Brain & Heart
This song is about the connection between one's brain and heart. More specifically, Martinez makes this song about how each of them need each other to live. Additionally, this song is Martinez's favorite song on the album.
Hearing this song makes people want to dance. As it is one of the slower songs on the album, the lyrics have a greater impact. Martinez's message is so uniquely conveyed during this song that it feels as though when listening, an individual's heartbeat matches with the beat. However, adding a bridge to this song would make it more entertaining to listen to. Without it, the song feels very repetitive. In summary, this song deserves a B-.

Loading ...
Numbers
"Numbers" illustrates Martinez's feelings about the music industry. She says that the music industry treats her as disposable – overworking and underpaying her for their benefits.
Despite Melanie's personal motivations for this song, all people can relate to her poetic descriptions of being overworked. The weights of the electro-beats in the background effectively make those listening understand her rage at employers. This work of art earns an A+.
Glued
This is a song about dealing with attachment and detachment issues in relationships. Specifically, the issues of saving oneself from possible emotional harm and being able to experience love.
As this is the only song on this album that takes on a slower, sadder tune, hearing it for the first time can be a shock. Despite this, the song is absolutely astonishing. She starts off the song with the words, "I'm glued to the thoughts in my mind," and it's quick to bring out emotions from the listener. This song truly deserves full marks – an A+.
Field Trip
"Field trip" is a song about Melanie Martinez's personality and her experience being an empath and a Scorpio. Additionally, she references the meaning behind her name and how she was originally going to be named Katrina, which means pure light, but got named Melanie, which means darkness.
Honestly, this song should be labeled as the worldwide "independent-persons" anthem because of the lyrics. The lyrics fit so well with the electric beat – including the lyrics in Spanish. It perfectly embodies Martinez's perception of herself. "Field Trip" earns an A.
The Bakery
"The Bakery" is this albums' title track. It is about the time that Melanie Martinez got fired from her afterschool job at the bakery – which had her repeatedly doing the same tasks. However, some theorize this song to be a reference to her feelings about fans pushing her to release new content.
This song is absolutely gorgeous. From the low, mellow beat to the harmonization of the chorus, there is absolutely no criticism. However, when it comes to the song's formula, it's very repetitive. Whilst that is a positive selling factor in the overall message of the song, it does sound like the same 30 seconds on constant loop. Overall, "The Bakery" deserves a solid B.
About the Writer
Ashtyn Haggard, News editor
Junior Ashtyn Haggard is a reporter and news section editor for TheBridge. She takes pleasure in listening to music, going on bike rides, and playing way...