The science behind your studying playlist
Music and studying go hand-in -hand, and when it comes to student's favorite genres, the results are mixed.
The fact that music helps people focus on homework isn't news to most, however, the data behind these studies has changed in recent years. It was previously believed that classical music produced the best results in work productivity, but this might no longer be the case says neurologist Barry Jordan, an assistant medical director of Burke Rehabilitation Hospital in White Plains, NY.
Teenagers' relations with music have evolved past the simplicity of classical music to help with productivity and more students find that listening to any music genre of personal preference often works the best for them.
An opinion poll was created on Oct. 16 to ask students about what genre of music they listen to when doing their work. These were the following responses from 145 respondents.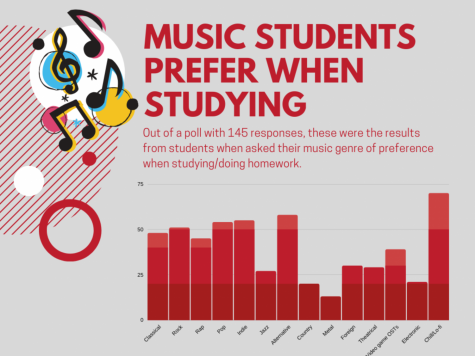 The top five most common answers were as follows:
Chill/Lo-fi

Alternative

Indie

Pop

Rock
Shockingly, classical music did not claim a spot in the top five preferred genres. This differs from the pre-existing belief that classical music is the most beneficial and/or popular genre amongst students. When asked their opinions as to why they liked this music in particular, some students felt that listening to music that is enjoyable to them is calming and the familiarity of it comforts them to be able to efficiently finish work.
"This music calms me down when I'm overworking myself and allows me to focus better on the assignments," a response to the Google poll said.
Music has actually been proven to reduce stress, strengthen concentration, and even improve performance.
"These are the kinds of songs I listen to on a regular basis so I practically have them all memorized. Having the familiarity of music I know helps me focus on the information I don't know," a response to the Google poll said.
So, what exactly do students like to listen to when studying?
Of course there is going to be varying responses regarding this subject. However, after looking at many recommendations from respondents of this poll, I've compiled a must-listen-to list of songs that perhaps might make an appearance on your own studying playlist.
About the Writer
Courtney Smith, Reporter
Courtney Smith is a junior at Bridgeland Highschool and doubles as a reporter for The Bridge. She spends her time outside of school at her job, playing...