Enter a new world
Theaters bounce back with sci-fi, action movies
For the first time since March of 2021, people are back for the action in movie theaters. Bounce-back movies like Marvel's "Black Widow" and Legendaries "Godzilla v.s Kong" started the rise of movies once again. These are some upcoming movies to get excited for!
Spiderman: No Way Home: A thrilling sequel to "Spiderman: Far From Home" is an upcoming movie dropping on December 17, 2021. This movie will explore the Marvel multiverse and bring back past characters from the original "Spiderman" like Dr. Octopus. In this movie, Spiderman's secret identity has been spilled to the world, and Peter Parker struggles to maintain a personal life, seeking guidance from Doctor Strange on returning his life back to normal.
James Bond: No Time To Die: On October 8, 2021, Daniel Craig is coming back for his fifth and final film of the "James Bond" series, and this won't disappoint. The movie starts off with an old friend in the CIA asking for Bond's help after he has quit service with the government, springing Bond back into an action-packed thriller.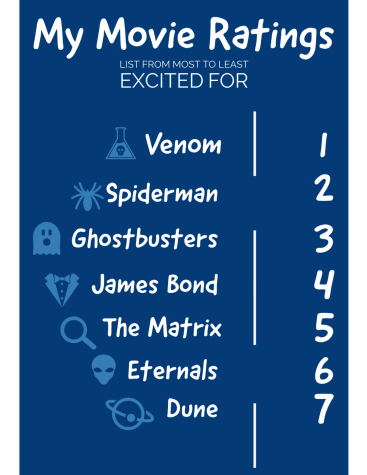 The Matrix 4: Resurrections: Keanu Reeves is back and not slowing down anytime soon with the fourth "Matrix" movie making its debut on December 22, 2021. This movie is a sequel to the 2003 Matrix film "Revolutions". Neo (Keanu Reeves) discovers the most dangerous man alive. His goal: to eliminate someone more powerful than him. It won't be easy, but luckily he won't be alone.
Eternals: This new Marvel movie brings something that you've never seen before, releasing on November 5, 2021. The Earth has been housing an ancient race of aliens for thousands of years. After Iron Man (Robert Downey Jr.) snapped everyone back into existence during the events of "End Game", it forces these ancient beings back to reality, awakening one of humanity's worst enemies… The Deviants.
Dune: "Dune" (2021) is the remake of "Dune" (1984). The main character, Paul Atreidas (Timothee Chalamet), journeys to the most dangerous planet in existence to find a resource more precious than anything ever found. This precious resource is supposedly the only thing to ensure his people's survival. Dune is making its debut on October 22, 2021.
Ghostbusters: Afterlife: The fourth "Ghostbusters" comedy is making its way on November 19, 2021. Callie (Carrie Coon) and her two children move to a new town called Summerville. Things start looking strange in the new town and they begin having connections to the original Ghostbusters, which links to a secret legacy left behind by their grandfather.
Venom: Let There Be Carnage: On October 1, 2021, Tom Hardy returns as Eddie Brock for the second time in "Venom" movies. Venom is different from the first movie as he is hungrier than ever with a new supervillain to face. Carnage, a red symbiote, also known as the most powerful type of symbiote. It won't be easy for Venom to face a better version of himself in this comedic thriller.
Leave a Comment