Where to go for the best cup of joe
Coffee shops to check out in Cypress.
America runs on Dunkin'…but Texas is basically it's own state so I guess we don't apply.
Caffeine dependency is all over, and we sure are not the exception. Welcome to a barista and a self-proclaimed coffee connoisseur's guide to Cypress, Texas cafes!
Crema Espresso Stand – 15210 Spring Cypress Rd
Quick coffee has wrongfully gained a bad rap thanks to chains like Dunkin' and Starbucks, who are notorious for flavor inconsistencies and/or hiked up prices. Crema however, is a low key chain of drive through coffee huts which usually can be found sitting in a parking lot. Similar to the more popular coffee hut, Dutch Bros, (which I sadly could not review because there is no Cypress location) the stand offers a variety of coffee beverages, Italian sodas, and redbull infusions. Fast, convenient, yet still high quality. The experience is speedy yet not rushed, and the stand opens at 5 a.m. so you can get your morning fix early. Best of all, the prices are fair; my generously medium iced latte is $3.75 before the tip. The only downside is the location, which really only proves as convenient if you happen to live on that side of town, which I sadly do not.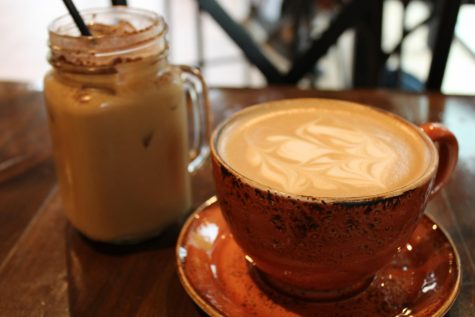 Plum Coffee – 11688 Barker Cypress Rd
Residents of Barker Cypress are the luckiest people in town. Seriously, this street has stolen all the good coffee shops, and this one has a high spot on my list. Plum's menu will not leave you disappointed – there is a huge variety of teas, coffees, smoothies and a plethora of yummy food. And no, not dainty little pastries, real food. Sandwiches are their specialty, they have amazing breakfast sandwiches, which are served all day, and paninis (I highly recommend caprese). They also offer a drive thru service, which is always good when you're on the go. Their specialty drinks are amazing of course, but I strangely prefer their teas to their coffee. If you're in the mood for chai, matcha, and/or a nice london fog, Plum is the place to be.
Fusion 36 Degrees – 7210 Barker Cypress Rd Suite 100
One word: ambiance. This place has got it. Upon walking in, I was met with chandeliers, wicker chairs, teacups and a cherub fountain right in the middle of it all. It felt as if I had fallen down the rabbit hole and was in no rush out. Much like Plum, I prefer the teas to the coffee, however I prefer their cold teas to their hot tea. They're actually a Vietnamese-owned tea shop, which widens the variety of their menu exponentially. To add to their ambiance, the customers all have cool dark academia vibes, which in turn will make you feel cooler. And, I have found that it encourages me to actually get work done rather than sit on my laptop and look pretty. Adding to the studious vibe, whoever is on aux surely needs a raise because the music is immaculate- nice lofi beats, and not the overused ones either. This place is perfect for a study session and a refreshing tea. If you're like me and overwhelmed by the huge menu, the workers are super sweet and will happily guide you to a choice based on your flavor preferences.
Land Of A Thousand Hills – 9935 Barker Cypress Rd Suite 130
Homey is the only way to describe Thousand Hills. While they do offer drive-thru, this is one of those places you just have to go inside. They have the coziest seating, adorable mugs, and a fireplace to top it all off. While the fireplace isn't on when it's warm outside, of course, it brings the room together and it truly feels like you're having an after-school study session at someone's house, and their mom just happens to be a barista/baker. Speaking of the baking, for all my gluten-free (or diet-friendly) friends out there, Thousand Hills has the most delightful gluten-free banana bread. Seriously, it tastes better than the regular banana bread I had in my pre-gluten-free life. And for those gastrointestinally blessed, there are also many gluten-full options. This chocolate croissant will blow your mind, which adds to why you should totally go inside because the pastries wouldn't be the same without being warmed. And for what you've all been waiting for, the coffee. Their iced coffee is the bomb. There is a flavor in their rotating specialty menu, "The Wedding Cake", and it will forever be my favorite iced coffee of all time. They're also really good at staying consistent in how their flavors turn out. The one slightly negative thing I have to say is that I wouldn't get any milk teas here (matcha or chai). They're mostly sweet milk with a smidge of the tea flavor, but other than that, everything else is a must-try. Thousand Hills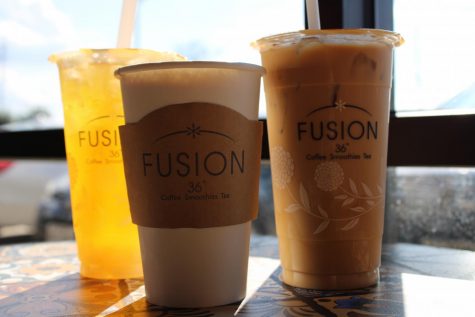 Pj's New Orleans Coffee – 11930 Barker Cypress Rd
While Pj's is a far cry from the acclaimed Cafe Du Monde, it sure is a close second. The menu offers a variety of New Orleans French coffees, like the classic cafe au lait. Surprisingly, I have personally deemed Pj's to have the best pumpkin cream cold brew. I was not expecting to enjoy it half as much as I did, and really only tried it because my sister got it and recommended it to me. I am so glad she did, because for the remainder of the PSL season, I now know where to go. The cafe also offers beignets of course, and they did not disappoint. During the Mardi Gras season, look out for the king cake coffee and king cake flavored pastries. Sadly, there is no hidden baby, but the flavor makes up for it. Pj's is the yummiest piece of NOLA in Texas. For those who are homesick for the unique taste of New Orleans style coffee, French coffee, or just looking for a nice cuppa joe, take a trip down to Pj's.
Leave a Comment
About the Contributor
Grace Kirkley, Lifestyle Editor
Grace Kirkley is a second-year staff member, and 2021-2022 lifestyle editor. You may find her in her spare time taking long nature walks whilst listening...