Setting the Culture
New Boys Basketball Head Coach Pillow gets ready for this upcoming season.
Everything you want is on the other side of hard.
That is the new motto that the boy's basketball program is going by this year. As the new coach, Coach Jon Pillow is ready to flip the program around. Pillow came from coaching for ten years at Pasadena High School. He came to Bridgeland because he wants to help improve the program. As the new head boy's basketball coach, Coach Pillow is focused on building a winning culture and creating a family atmosphere.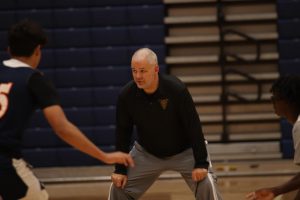 "It's about setting the culture; trying to improve on last year's record," Pillow said.
Coach Pillow stated that he is a family-first type of coach. He needs everyone on the same page and focused this year. Coach Pillow firmly believes they can make it to the playoffs but needs his players to buy in and believe in the process. As long as each player puts in diligent work, Coach Pillow believes the playoffs are attainable.
"You got to push through the hard work for what you want," Pillow said
The boy's basketball program has a lot of work in front of them. If they want to make it to the playoffs, they have to know the other teams in the district are looking to beat them. Coach needs them to have the right mindset to set the tone for every game. He plans to push them to their limits every day because he's determined to get the best out of each player, which he believes will translate to a winning program.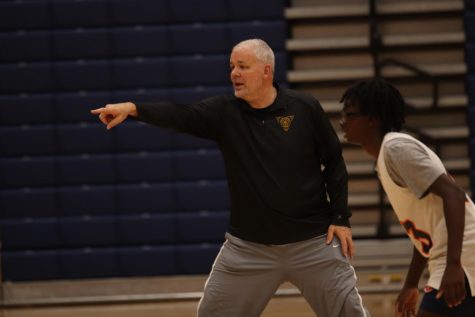 "A successful basketball program, in the coaching world, [is] if you look at the bench during the game, and they're excited about what's going on," Pillow said. "That means you have the right culture."
Coaching at Pasadena High School and now Bridgeland, Coach Pillow knows there are greater expectations. One thing he has expressed are the four C's: character, class, commitment, and courage. In addition, he demands integrity, always doing the right thing, and making sure players are working to improve their game and not taking shortcuts. He expects the same in the classroom if this team is expected to cultivate a winning program. But everything goes back to their motto: you gotta work hard if you actually want something, it doesn't come straight to you without work.
"And then all goes back to my motto," Pillow said. "Everything you want is on the other side of hard."
View Comments (3)
About the Contributor
Madison Clay, Reporter
Madison Clay is a junior and in her second year on staff at Bridgeland High School. Madison is a member of the Bridgeland girls basketball team and enjoys...