Fall from glory
Bears lose heartbreaker to the Mustangs 38-28.
Bridgeland's varsity football team falls short to the Cypress Ranch Mustangs 38-28 Saturday night, Oct. 9.
The Bears fall to a 5-1 record ending their undefeated record. Senior quarterback Connor Weigman was sidelined with an injury. Senior Josh Stephens, Bridgeland's backup quarterback, started against the Mustangs on Saturday night.
Bridgelands defense started out strong with a forced fumble against Cy-Ranch as well as an interception by senior defensive back Bryce Bickham. Both defenses were able to put the other's offense to a halt, ending the first quarter with a score of 0-0.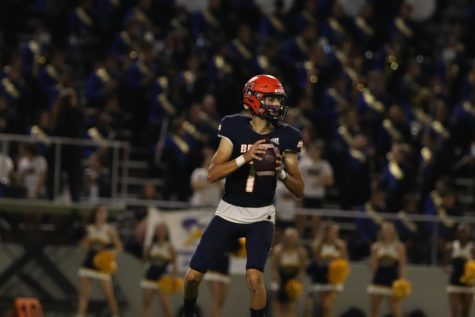 As the second quarter began, the game had become a little rocky for our Bears as Cy-Ranch scored a touchdown. Bridgeland continued to create defensive takeaways with another forced fumble to give the Bears offense another chance. With no hesitation, the Mustangs continued to show no mercy on defense. With a forced fumble against Bridgleand, Cy-Ranch scored another touchdown increasing the score to 14-0
Bridgeland was down but not out. The Bears went back to the locker room during halftime and knew something was wrong.
"We need to focus on playing as a team," said senior defensive back Zell Woody. "There were a lot of mistakes offensively and defensively and we needed to focus on playing as a whole."
Returning after the half, Cy-Ranch came back even stronger, proving to be too much for Bridgelands defense. Ranch scored two touchdowns during the third quarter, and Bridgeland continued to stay scoreless.
Entering the fourth quarter the Bears struck back with their first touchdown of the game by junior receiver Jonathan Nelson, increasing the score to 28-7. Bridgelands defense took their turn, forcing and recovering a fumble which led to a 53 yard completion to Nelson for another Bears touchdown.
With the score 28-14 and the Mustangs offense on the field, Senior defensive end Aaron Vital quickly sent them back to the sidelines with two back-to-back sacks. The Mustangs defense could not stop the rolling momentum of the Bears' offense with two more receiving touchdowns from Johnathan Nelson tying the game 28-28.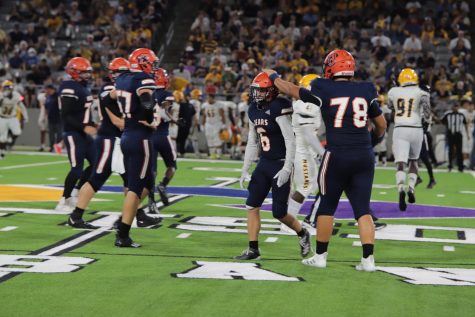 Senior Terrance Cullivan came up big for the Bears by sacking the Mustangs quarterback in Bridgeland territory with 47 seconds left to go, forcing Cy-Ranch to kick a field goal and make it. With the score now 31-28 in Cy-Ranch's favor, Bridgeland was forced to act quickly. With only 0:35 second left to get, Bridgeland QB Josh Stevens was sacked, and things began to go the Mustangs way again.
After the sack, Stevens threw an interception which was returned for a Mustangs touchdown. Cy-Ranch extended their lead 38-28 within minutes. The Bears had a small window of winning, and had to do everything in their power to get things done. With 0:19 seconds left Stevens threw his fourth interception of the night ending the game 38-28 in favor of the Mustangs .
The Bears were heartbroken after the quick shake up at the end of the game, but couldn't let it get to their heads.
"It's just another week, we need to move on," said Woody. "We need to focus on beating our next opponent. It's part of a greater goal just to play as a team. We played fantastic in the fourth quarter, we just need to play like that in all four quarters in our game."
Leave a Comment
About the Contributor
Alex Vanderlaan, Reporter
Alex VanderLaan is a junior at Bridgeland High School and a reporter for The Bridge. In his free time he is involved in Math Honors Society and he works...