Pummeling the Panthers
Bears bounce back with win against Panthers 55-6 at Pridgeon.
Varsity football defeated Cy-Springs 55-6 to end their two game losing streak last Saturday, October 23.
Bridgeland came into the game against the Panthers following a loss against Cy-Park. Senior quarterback Conner Weigman made his return into the starting lineup as the Bears struggled with quarterback depth and injuries.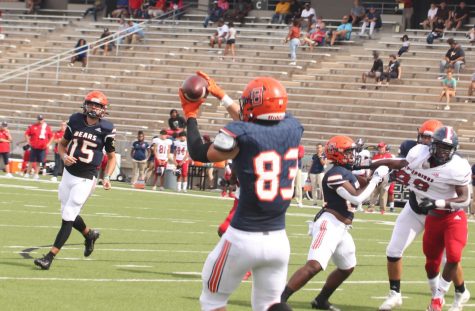 It didn't take long for Bridgeland's offense to get going as Senior wide receiver Andrew Maleski caught a ten yard touchdown pass from Weigman just two minutes into the game. Kicker Fisher Pratt missed the extra-point attempt, making the score 6-0 in favor of the Bears. On the kickoff after Maleski's touchdown, Bridgeland attempted an onside kick and were successful. Senior Nicholas Cordova recovered the onside kick, giving Bridgeland the ball back.
Midway through the first quarter, Bridgeland had all the momentum, as Cordova rushed into the endzone extending the lead to 13-0. With one and a half minutes left in the quarter, junior Reid Mikeska caught a touchdown pass from Weigman. Although the Bears two point conversion attempt failed, Bridgeland was dominant, leaving the first quarter score at 19-0.
One minute into the second quarter, bad weather forced a lightning delay. After 45 minutes, the teams were allowed to resume play. Bridgeland had no problems after the break as they scored in less than a minute following the stoppage. Maleski caught his second touchdown pass of the day from Weigman, extending the lead to 26-0.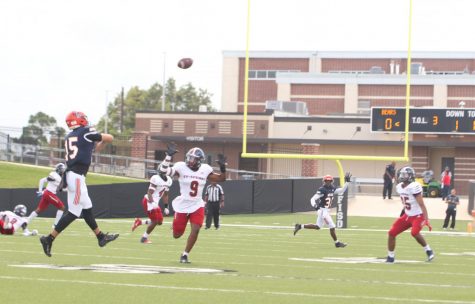 Sophomore quarterback Hudson Pollard entered the game for Weigman the next offensive possession, making his varsity debut. Junior Savion Willaims took a handoff from Pollard and ran into the endzone for another Bears touchdown. The point deficit for the Panthers grew as the score was now 33-0 in favor of the Bears. With a minute remaining in the second quarter, Mikeska scored his second touchdown of the day on a pass from Pollard. Bridgeland entered halftime up 40-0 on Cy-Springs.
Both teams had an extended halftime as more bad weather caused another 45 minute lightning delay. The second break seemed to have more of an effect on the Bears as they only scored two touchdowns in the second half and let the Panthers score a quick touchdown. Bridgeland ended up winning the game 55-6, showing offensive and defensive dominance.
The Bears will face district opponents Cy-Lakes on Friday, October 29 at seven p.m. The game will take place at the Berry Center with Bridgeland as the away team.
Leave a Comment
About the Contributor
Alex Vanderlaan, Reporter
Alex VanderLaan is a junior at Bridgeland High School and a reporter for The Bridge. In his free time he is involved in Math Honors Society and he works...