Win or go home
Varsity football defeats Cy-Falls 38-10 in final regular season game, earns spot in the Texas 6A Football playoff
Bridgeland varsity football emerged victorious on Thursday night, November 4, against the Cy-Falls Golden Eagles at the Berry Center.
Cy-Falls started the game strong, recovering the kickoff after the ball bounced off a Bridgeland player. The Eagles drove down the field, kicking a field goal to give Falls an early 3-0 lead. Halfway through the quarter, receiver Andrew Maleski caught a touchdown pass from quarterback Connor Weigman to give Bridgeland the lead. Bridgeland recovered a fumble on the Eagle's next offensive possession. That change in possession led to a one yard rushing touchdown from sophomore Noah Allen Cuellar, increasing the lead to 14-3.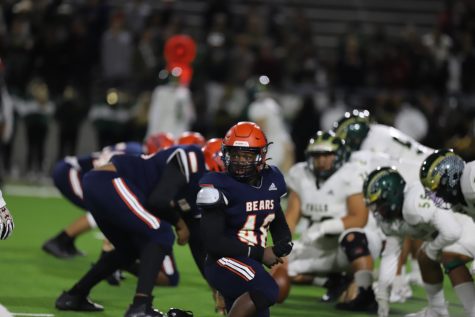 Bridgeland continued to carry their momentum through the first quarter. Cy-Falls quarterback Jonathan Valdez left the game with a head injury, ending the Eagles offensive drive. Maleski scored on the following possession off of a pass from Weigman, ending the first quarter at a score of 21-3 in favor of the Bears.
Five minutes into the second quarter, kicker Fisher Pratt made a field goal and extended the lead for Bridgeland. Cy-Falls' offense continued to struggle as they turned the ball over on downs multiple times during the first half. Maleski and receiver Savion Williams caught touchdown passes in the last minutes of the first half, giving Bridgeland a 38-3 halftime lead.
The Bears defense stood out in the first half, only giving up three points. Senior Ross Pohlmeyer said the defense was ready to make plays.
"The mindset was to swarm the ball, that's our little motto," Pohlmeyer said, "but everybody is swarmed to the ball and nobody's gonna miss tackles."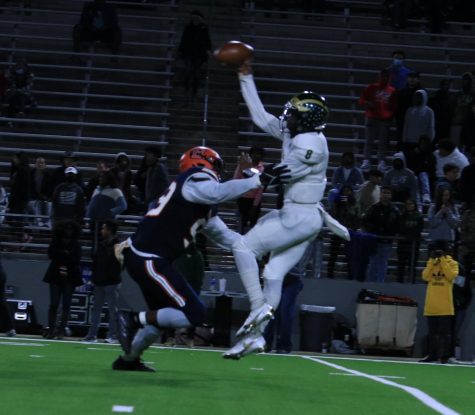 Quarterbacks Joshua Stephens and Hudson Pollard made appearances in the second half for Bridgeland. Run-based play calling dominated the rest of the game for the Bears as they tried running down the clock. Cy-Falls scored a touchdown in the final moments of the third quarter, cutting the Bears lead to 28 points.
Halfway through the fourth quarter, Pratt missed a 30-yard field goal for Bridgeland. The Bears ran the clock the rest of the quarter and ended up winning 38-10.
Bridgeland will play Klein Collins at Klein Memorial Stadium this Friday, November 12 to kick off playoffs. Weigman expects the Bears to continue to hustle and play hard to advance deep in the playoffs.
"We're gonna play physical and play to the whistle each and every down," Weigman said. "Our goal is to make it to state, and it all starts here."
Leave a Comment
About the Contributor
Alex Vanderlaan, Reporter
Alex VanderLaan is a junior at Bridgeland High School and a reporter for The Bridge. In his free time he is involved in Math Honors Society and he works...