Swimming to Success
Swimmers from Cy-Fair ISD participate in beating Guinness World Record.
The time ticked on.
Members of the swim team nervously chatted as participants from other schools stepped onto the edge of the pool to start their relay.
The previous record had been set for 281 people, but with students and coaches from all of the high schools in the districts, 288 people joined together to help set a new record.
What felt like hours only took nearly a dozen seconds for each student to swim the 60 foot pool.
Finally, the last student from Cy Springs reached the finish mark.
48 minutes and 41 seconds.
They made it.
On October 4, 2021, the Bridgeland High School swim team participated in a district wide attempt to set a new Guinness World Record for most individuals to swim in a single relay in less than an hour, with 288 people from all 12 high schools within the district contributing.
"We were kinda worried that we weren't going to be able to do it fast enough," said senior Cooper Ulrich. "But other than that, a slight concern was just everybody excited to go get it done because we had never done something like that before."
As the clock ticked on, students across all schools were unsure if they would make the time needed.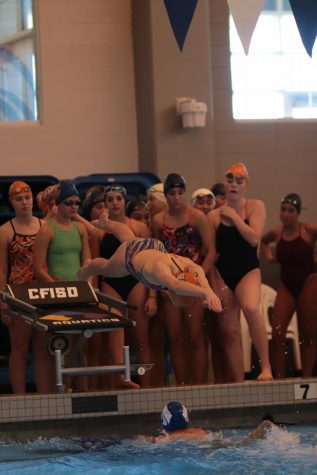 "It was really exciting, because it got down to the point that we were not sure if we were going to do it in the time that we had, but we ended up getting the record," said sophomore Brooke Ficalloa.
For the Bridgeland swim team, this was a huge accomplishment that they were proud to be a part of. After years of work and winning meets, it was thrilling to participate in something bigger than anything before.
"It's a big benchmark because for Bridgeland swim, we've won the district meets for these past couple years that we have gone to," said Ulrich, "but for this in particular – I mean, this is going into a record book, so it's a little different because usually the district's thing is on a small scale, it's self contained, but you know for a world record, that's the world, so a little different there."
Leave a Comment
About the Contributor
Emma Zwick, Reporter
Emma is a sophomore artist who loves to write. She mostly does drawing in her free time, and has a big imagination for creating her own characters. She...