Comments from School Board member spark community wide response at Board meeting
Board member Scott Henry's comments over equity audit led to increased participation at meeting.
Controversial comments from recently elected board member Scott Henry during the Jan. 10, 2022, board work session sparked a community-wide response including calls for his resignation. At the Jan. 13, 2022, board meeting, public comments surrounding equity and race relations were heard from more than 30 community members including parents, teachers, and students.
During the work session, the board reviewed findings from an equity audit commissioned after the Cypress-Fairbanks Independent School District board of trustees unanimously signed a resolution condemning racism on Sept. 14, 2020. The board also voted to hire an outside firm to conduct an equity audit. Three members of the board who signed the resolution were not reelected in the 2021 board election – Bob Covey, Don Ryan, and Dr. John Ogletree.
Millennium Learning Concepts conducted the audit, with the goal of examining the district's strengths and areas of growth as it pertains to diversity and inclusion. At the Jan. 10 board work session, the results of the equity audit were presented, and trustees asked questions from the results.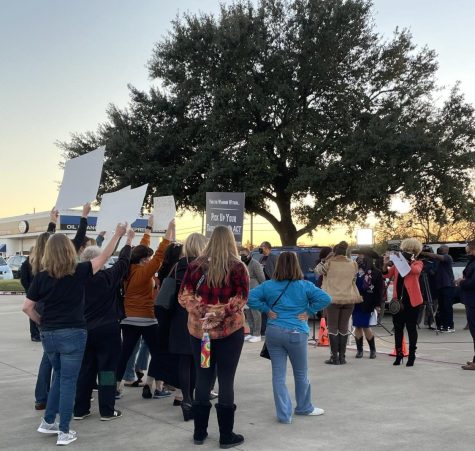 Comments made by Scott Henry caused outrage and calls for his resignation.
"But Cy-Fair has what 13 percent Black teachers? I know you mentioned it earlier. Do you know what the state-wide average is for Black teachers? Ten percent, I looked it up. The statewide average for Black teachers is 10 percent. Houston ISD, which I'll use as the shining example, you know what their average number of Black teachers is? Thirty-six percent. Do you know what their dropout rate is? Four percent. I don't want to be four percent I don't want to be HISD. I want to be the shining example, I want to be the district example. I want to be the premium place where people go to."
The community questioned whether Henry was insinuating that dropout rates increased because of Black educators. Houston leaders such as Harris County Judge Lina Hidalgo responded by saying "Divisiveness and racism are what's hurting our students. Not diversity." Mayor Sylvester Turner also commented, calling Henry's words "unacceptable."
Henry released a statement via Twitter saying "I serve on this board for one purpose: making sure our children are receiving the best education possible. I am not a politician and don't care about politics. I just care about our kids and their education. Unfortunately, my word are getting twisted by political actors for political purposes.
I was defending our school district against attacks from an out-of-state political organization that claimed our schools were failing our students because we did not one predetermined diversity metric. This political organization claimed that one metric – the percent of black teachers in our schools – determined the quality of education our students receive. I was simply refuting that by pointing out the fact that there is no one metric that determines education quality – there are a number of important metrics that should also be taken into account. Diversity is just one of those metric, it's not the only metric.
Any suggestion that I said more black teachers leads to worse student outcomes is a flat-out lie and those spreading that lie should be ashamed of themselves. I am proud that our school district has placed an emphasis on hiring diverse teachers and that we exceed in doing so.
We need to get back to the basics in our school, focusing on reading and math and the educational building blocks that have fallen out of focus during this pandemic. That's all I care about and why I serve on the school board. I'm not going to let disingenuous political attacks distract me from that. "
Privacy settings on the tweet did not allow for responses, but quote tweets called for Henry's resignation. Less than a week later, Henry deactivated his account.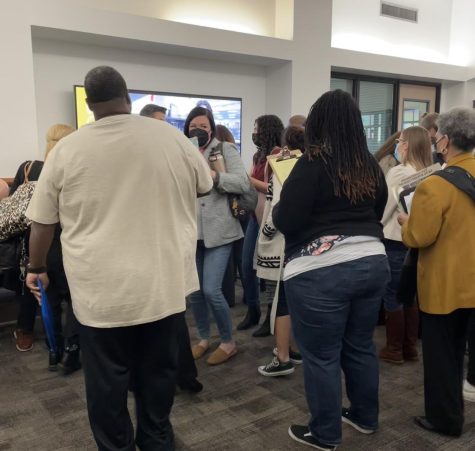 The controversy was the topic of conversation heading into the January scheduled board meeting.
At 5:00 p.m., the parking lot was already occupied with community members, for and against Scott Henry. KRPC 2, ABC 13, Fox 26, Houston Chronicle, and other news organizations covered the events. Harris County Judge Hidalgo, President of the Houston chapter of the NAACP Dr. James Dixon, and Executive Director of FIEL Cesar Espinosa made appearances at a press conference outside the Instructional Support Center.
Because of increased numbers at the meeting, Chief of CFISD police Eric Mendez said additional officers were available. Usually, officers are stationed at the parking lot, lobby area, vestibule, and the boardroom; Mendez added that there were one or two extra officers that night.
"I would hope, again, that everyone here for tonight's meeting, acts accordingly and actually, as an adult," Chief Mendez said. "You have the right to be heard and say what you need to say and then move on. We'll see what happens,"
Community Member Julie Dahan was one of the Scott Henry supporters at the meeting. Dahan does not support the audit, saying in her statement to the board that it doesn't focus on "ensuring that each individual child will be given the tools they need to increase their performance in reading and writing and arithmetic."
"I support Scott Henry," Dahan said in her statement, "and the goal of ensuring that all children are provided with the resources and curriculum they need to be successful."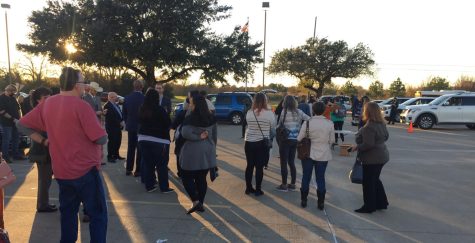 President of the Cy-Fair Civic Alliance Ryan Irving Jr. said Scott Henry's words, whether or not he meant them, affected people. According to the CFISD alum and 2021 school board candidate, Irving said he was taught how to take accountability for his actions and is disappointed in the actions of the current school board member.
"I think it's pretty sad that his colleagues had more courage than he did to apologize," Irving Jr. said. "I think an apology would be the start. But if he's not capable of that, I would like to see a resignation."
Community member William Elli spoke during the public comment portion of the meeting and emphasized that Millennium Learning Concepts recommendations listed in the report are not substantiated by the data.
"I'm disheartened and disgusted by certain members of our community," Elli said before the board, "and their virtue signaling, bully tactics and gaslighting [of] Mr. Henry."
Much discussion surrounds the definitions of "equity" and "equal," which, Susan Nichols, owner of a consulting group for nonprofit churches and small businesses, tried to explain in her statement. She said she decided to speak because of her experiences within the community. Nichols has been working in the Cy-Fair community in an administrative capacity with nonprofits, helping them and churches reach their communities. Nichols mentors at low-income schools to learn different people's experiences, and she hopes that the district can move forward.
"I think it's really important to acknowledge statistics and the facts," Nichols, the mother of two CFISD graduates and one current Bridgeland student said. "That's your starting point. And then to educate yourself on different perspectives and understanding that may not be your own light."
Vice President of the board Julie Hinaman spoke during the board comments section of the meeting, highlighting how one community member expressed fear about coming to the meeting, and how employees took Monday's comments very seriously. Hinaman was a member of the board when the resolution was drafted and signed.
"I'm grateful to see so much interest from the community and engagement on these important issues for our district. The way I think that we can move forward is to have open honest dialogue about the issues in our district," Vice President of the School Board Julie Hinaman, "Both positive and areas for improvement, and that we strive to focus on what's most important, which is student achievement."
Henry also spoke at the board meeting saying he and his family have received threats in response to the conflict, and expressed that he would continue serving on the board. Henry's former employer Splunk, a software company based in San Francisco, announced his termination via Twitter on Jan. 14. While Henry was not named in the tweet, the news was sent in response to other tweets asking the company to take action.
"We viewed the employee's conduct as inconsistent with who we are as Splunkers and the individual is no longer employed by our company."
College and Career Readiness and Black educator April Young went to the Jan. 13 board meeting with the goal of presenting a unified front of educators of all backgrounds, and to understand the reason behind Henry's comments.
"My reaction was unfulfilled, it left a lot to be desired. I felt that I wanted more. And not even that I wanted more, I wanted something," Young said in regards to Henry's statement. "I didn't get what I came for, which was to understand the basis of his comments. He just went on to say that they were taken out of context and that he should have chosen his words differently. But didn't seem to understand that his words were wrong. So I left without any understanding."
Leave a Comment
About the Contributors
Alfred Dozier, Co-Editor-in-Chief
Alfred Dozier is a senior and one of three Editors-in-Chief of The Bridge. This is his third year on staff, and he loves every moment inside the newsroom....
Olivia Masterson, Co-Editor-in-Chief
A traveler at heart with a desire to collect plants she knows she can't keep alive, Olivia Masterson is a senior and one of the three Editors-In-Chief's....