Growing Strong, Engaging Minds
Learn about the growth of FCCLA, and their role in the community.
Among the abundance of clubs at Bridgeland High School, Family, Career and Community Leader of America (FCCLA) has significantly grown its influence in the past year.
"We started the second year the school was open," club director Amy Lai said, "but we didn't do any competitions until 2019, end of 2020."
FCCLA focuses on bringing the community together through service projects and readying students for the hospitality career branch. For FCCLA, the number of members dictates the number of competitions they can enter. For a club that started with nearly 15 to 20 members, they didn't anticipate entering any competitive events until later into the club's progression. According to Lai, however, the students were determined to compete, even if it wasn't immediately.
"
I love it. It's a great environment and we're all a big family, I hope we can continue to get more members and more people will make it to state.
— Trapp said.
"We were able to get a few students I had previously taught the years before that wanted to come back and do a project specifically because they didn't get to before," Lai said.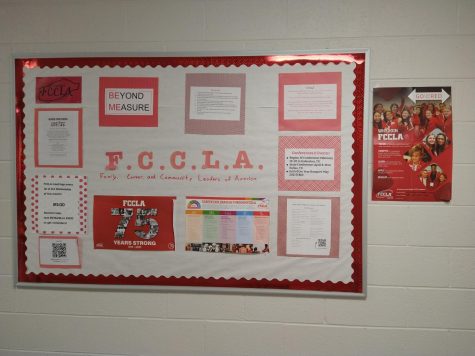 Within the club, there's a family. FCCLA's members pride themselves on inclusivity and peer involvement. The vice president of FCCLA, Ashley Trapp, expresses why she became so passionate about her time in the club.
"I like helping others and serving," Trapp said, "so I found it was a good club to continue to do service projects and fundraisers while still being able to compete"
Despite the club's growing success, the club members and sponsors don't want to just stop there. According to the officers, they're trying new methods of growing their influence in hopes of attracting more students to participate in club activities.
"In my fashion II class we are actually doing some of the competitive events as a class assignment," Lai said, "so I think doing that will get more kids involved."
As more people join the roster, the club will be able to carry out more ambitious projects. Lai has big hopes for the club's future agenda, including her ambition to start up 'special programs' here at Bridgeland.
"Within FCCLA we have 'special programs,'" Lai said. "The students put together some type of program for their school. It could be related to traffic safety, community service, or a problem they see on campus."
According to Lai, the current students involved in FCCLA wish to enact a special program about LGBTQ+ acceptance.
"I love it. It's a great environment and we're all a big family," Trapp said. "I hope we can continue to get more members and more people will make it to state."
Leave a Comment
About the Contributor
Courtney Smith, Reporter
Courtney Smith is a junior at Bridgeland Highschool and doubles as a reporter for The Bridge. She spends her time outside of school at her job, playing...