Trip Down Memory Lane
A look back on three varsity Volleyball members, and their history.
In 2021, history was made by the varsity volleyball team. Trying to make a comeback from losing to Klein in the third round of the playoffs in 2020, they did just that, and even advanced further. Entering the 2021 volleyball season, the varsity team knew they had to come out strong and make a statement. They would then make the playoffs once again three years in a row, but it was different this time.
They advanced to the third round, where they went up against Cypress Woods. They knew this was their chance to advance farther from last year, which they did, the final score being 3-0. They then went on all the way to the semi-final but fell short to Brandeis High School. The people who really took in the loss were the seniors since it was their last year playing high school ball, but especially for those seniors who were on varsity all of their years here at Bridgeland.
Karrington Kays, #14
Kays, a University of St. Thomas commit, was awarded First Team All District and selected as a 2021 Legacy All-Star by Texas Girls Coaches Association. Throughout her four years as a starter for Bridgeland, Karrington learned how to be an impactful leader, a hard worker and a more resilient player. Karrington took the time to say thank you to her coach, Coach Khalil.
"Thank you for believing in me," Kays said, "even when I didn't and always having my back."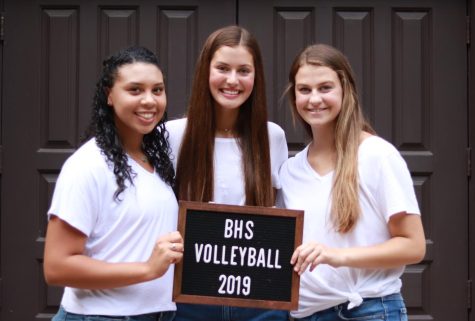 Mallorie Garner, #10
Garner, who will continue her education at Texas A&M, was awarded First Team All-District, UIL State Tournament Team, Academic All-State, and was also named the All-Greater Houston Player of the Year. During her time here at Bridgeland, she has made many memories, but two she held close to her heart. The first was playing with her sister, 2021 graduate Makensie Garner for two years, as it was a cool experience for her. Her second memory is the game that led them into the semi finals, the game against the Woodlands, where she helped them to a victory. It wasn't just the feeling of rushing onto the court and knowing they were one of the top four teams in the state of Texas; it was how grateful she was to her coaches.
"She's been an incredible coach for the past four years," Garner said. "She has only wanted the best for us. Like on the court, and especially off the court. She wants us to not only be like good players, but like good people in real life."
Emily Marks #11
Marks fell in love with volleyball at the age of eight. She tried almost every sport you can imagine, but volleyball struck a chord with her. Marks has learned a lot while playing the game she loves. The game has taught her the value of determination and hard work, and it paid off. Marks was awarded Academic All State, first Team All District, and has committed to play at Southwestern University. Marks expressed that her freshman year is where it really hit. She had to fight for every position and earn her time on the court.
"So one thing that I've learned is to just, you know, if something's just not going right," Marks said, "you just gotta keep trying and [do] extra work outside of [it], whether it's work or school or anything; extra work outside of whatever it may be is going to get you up the ladder in the corporate world."
Leave a Comment
About the Contributor
Madison Clay, Reporter
Madison Clay is a junior and in her second year on staff at Bridgeland High School. Madison is a member of the Bridgeland girls basketball team and enjoys...