Annual King Kodiak pageant took place Feb. 17, awards and superlatives resulted.
Seniors participated in annual King Kodiak competition Feb. 17, 2022 in the Bridgeland Auditorium to win King and Queen Kodiak, senior superlatives and audience favorite awards.
King Kodiak is a pageant designed to highlight senior boys and their escorts within Bridgeland's various organizations. This year, ten organizations participated, including Bridgeland Student Media, Student Council, Cross Country, Swim, Queer-Straight Alliance (QSA), Fellowship of Chritian Athletes (FCA), National Honors Society (NHS), Drama Club, Ebony Excellence Society (EES), Choir and Speech and Debate.
"In the beginning, I was kinda nervous since there was an image I wanted represented during the competition," Maryam Ghazi, Queen Kodiak winner and EESociety escort, said. "But overall, I was really proud and excited to represent EES and display the image of Black excellence and Black beauty throughout the contest."
The event was judged by three unbiased voters chosen by theater teacher, Mr. Delka. In addition to judges, the audience also had a say in who won certain awards, such as audience favorite. King Kodiak's theme, known as the 'Growlin' 20s', replicated cult-classics such as The Great Gatsby.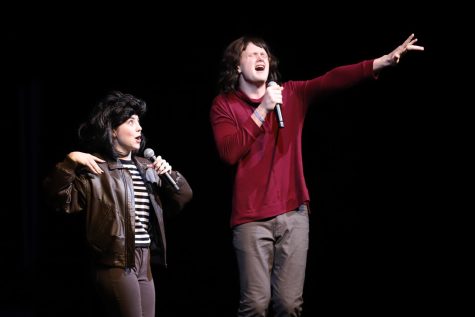 The competition started with an introduction section stating who was from each organization. Then came the talent portions, where students could decide to have their own segment – limited to three to five minutes – or join with another group. These talents included comedic news skits, musical performances and dance routines.
"The audience response was one of my favorite parts. Since we had a lot of technical issues with our talent, I was initially feeling super embarrassed and upset, but once everything was sorted out and we were able to start up again, the audience was immediately supportive and really loving and it made me feel so much better about everything." Ghazi said.
For speech and debate club representative and King Kodiak winner, Emidgio Chapa, his performance consisted of dancing with his escort, Areesha Rahman. Following the dance, he began singing a mariachi song called Si Nos Dejan by José Alfredo Jiménez. He performed the version by Luis Miguel.
"I love singing, it's my passion. Mariachi is great and I'm going to continue being in one in college." Chapa said. "I think my performance was loved by the crowd and the judges."
The awards portion of the pageant started with each contestant walking out onto the stage in their formal wear. The possible awards to receive were as follows: King Kodiak, Queen Kodiak, First Runner Up, Mr. Congeniality, Best Talent, Best Theme Wear, Best Formal Wear, Audience Favorite, Best Smile, Best Eyes and Best Biceps. Alfred Dozier, Bridgeland Student Media representative, was one of three groups that did not receive an award.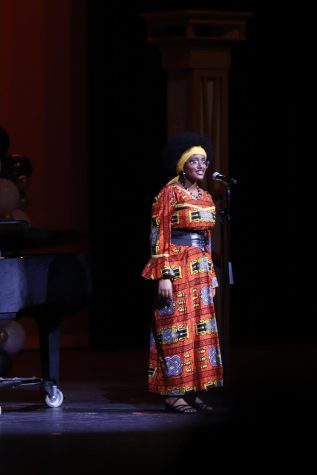 "After we finished going to the auditorium and seeing all my friends and my mom congratulating me, it was enough." Dozier said.
Voting for Senior Superlatives and Audience Favorite occurred during the designated 20-minute intermission within the show. The crowd could scan a QR code and select their favorite act off of a Google form, and superlative voting came from putting dollar amounts on images of the favorite boy's smiles, eyes and biceps. Whoever had the most money for each category won. Best smile, best eyes and Mr. Congeniality winner Cade Adikson represented FCA during King Kodiak.
"My aunt definitely put a little bit of cash into my box because I definitely don't have the best smile or eyes, but I guess I'll let it slide," Adikson said. "For Mr. Congeniality, I really just made an effort to be personable with all of the guys that I was involved with. I truly did enjoy being around them, so it wasn't difficult at all having a good time with them."
Overall, the event was a success for the seniors that participated.
"It's your last year of highschool. Do something you wished you had done and just enjoy yourself," Ghazi said. "If you're excited about what you're doing, others will get excited too."
Leave a Comment
About the Contributor
Ashtyn Haggard, News editor
Junior Ashtyn Haggard is a reporter and news section editor for TheBridge. She takes pleasure in listening to music, going on bike rides, and playing way...