Big Reveals, New Horizons
October 2021 will forever be remembered by Animal Crossing players. A new update releasing many exciting new features was announced Oct. 15. This included Bewster, ordinances, cooking, storage expansion and much more.
Return of beloved characters
Many continuous players of Animal Crossing throughout the many versions of the game might remember unique characters such as Kapp'n, who will take the player to even more mysterious islands than the already available Nook Mile mystery islands. Harriet the poodle was also added to Harv's island, where they were previously only able to take photos. She can give the player up to four new hairstyles, if they were looking to branch away from the same old style before the update. Back on Harv's island, the player might find a surplus of plots with construction gyroids begging for bells, in exchange for a villager to sell items or services to the player.
The Roost
Any fans of coffee lovers and Animal Crossing will be delighted to see Brewster, a cafe owner, who wants to start up a business on their island. Brewster can be found within the museum, after speaking to Blathers and hunting the pigeon down with Kapp'n giving the player the transportation. The Roost Cafe will be open in the museum after construction for two days, where there's a high chance of encountering NPCs or villagers on the island.
Cooking
One of the newest and best features of this update has to be cooking, which many players were finding hints of in previous trailers or directs. It brought wheat, tomatoes, potatoes, sugarcane and carrots. It finally gives players variety in what food they can make, not the recipes just limited to thanksgiving.
Construction
While we are all familiar with expanding home storage, bridges, terraforming and inclines, they added more on top of these ideas. There is now the option to add two more bridges and two more inclines, resulting in ten total of each. There is also the extra home storage option that the player can access outside of their home.
Design
Along with physical additions to the island, players can now access new custom design features, such as Sable's designs that players can find when interacting with her, can now be worn as clothes and not just limited to decorating furniture. Also, there are new hairstyles at the Nook Stop within the town hall that they can purchase with the Nook Miles earned from tasks around your island. At the Nook Stop, the player may also find more reactions to purchase with extra Nook Miles.
Decorating
While there aren't a ton of new design features if a player doesn't have "Happy Home Paradise" (the paid DLC), they will still gain access to ceiling lights and accent walls to add extra pops of style in your home. Ceiling fixtures can be purchased at the Nook's Cranny.
Camera
Shockingly, this has to be a collectively loved and anticipated section of the update. This brings the new fish eye lens, and new filters to use when taking photos around the island or on a Dream Tour.
Ordinances
A brand new feature and one that can benefit everyone would be ordinances. This can make villagers and shops around a player's island start earlier, or later depending on when they play the most.
Group Stretching
A new item has been added to the plaza- a box with a radio inside. If the player were to click it, them and the villagers on the island can start group exercises whenever they please. If the player uses Joy-Cons while playing, they are able to actively participate and stretch as they follow the directions on screen. However, if the player uses a switch lite, it's just a visual experience and will just enjoy spending time with their villagers.
Functional and movements
There's a new tool recipe available in Nook's Cranny. It's a permanent ladder that can be placed anywhere around the island. These will help lower the cost and time of getting to higher spaces. Next, is the ability to move through smaller spaces. Players can now maneuver their character in half tile spaces, rather than one.
Villagers
Just like on the player's birthday, villagers can now visit their home. A player may be running in to grab an item and find their favorite villager coming into the entryway of their home, as they've been wanting to visit the player. Or, there's always the opportunity for them to invite a player to their own home, and hang out with them for a little while. This really ties the knot on villager interactions and has more and more people looking for their favorites in hopes of getting to spend even more time with them.
While these were all the new features for the update itself, if you're looking for even more variety and content, the DLC retails for $25 on the Nintendo Eshop. These new features alone almost completely bring a new game to the table, and should sustain players for a very long time, but the option of extra content is obviously still available.
Leave a Comment
About the Contributor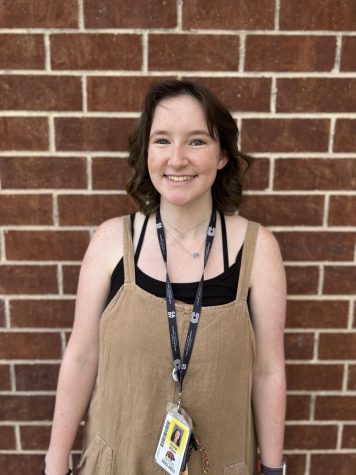 Ryleigh Wilson, Magazine Editor / Feature Editor
A true scatterbrain, senior Ryleigh Wilson has been on the journalism staff for 3 years. She is the Co-Editor of the magazine and the features editor....