Third Economic Fair hosted April 23, 2022.
In a culmination of a month-long project, the third ever Economic (Eco) Fair took place April 23, 2022.
Due to COVID-19 restrictions throughout the 2019-2020 school year and fall semester of the 2020-2021 school year, Eco Fair didn't happen. Economics team leader Stacy McCarthy explained that she helped plan the schedule and disperse the information to government teachers.
McCarthy planned a date for the spring Eco Fair, reserved the cafeteria and printed out instructions on the project for students. Tickets for the fair and brown paper bags which served as registers during the fair also required purchasing. The National Honor Society helped McCarthy greatly throughout the process.
"I have to organize people to help me sell tickets during first and second period during Eco fair," McCarthy said. "Because I'm busy going around grading it, so it's kind of a lot that goes into it behind the scenes."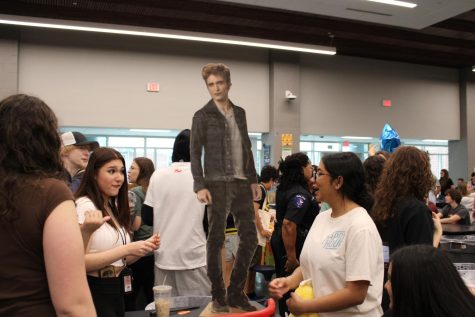 Eco Fair itself is a project designed to teach students entrepreneurship and running a business. Students start by coming up with a business plan and choosing a product to create. They then must fill out a patent sheet, make a flier and make a commercial for their business. Students work in a maximum of three groups, with 30 products being the maximum they can create.
"They've got about 70% of Eco Fair done before actual Eco Fair day," McCarthy said, "Then on the day of [Eco Fair] that's when we actually get to see their products in person for the first time."
Seniors not in Economics that semester of Eco Fair get to buy the products with tickets. Tickets are priced at one for 50 cents, most products range from 2 to 8 tickets. All proceeds made during Eco Fair go to the senior class, the spring Eco Fair made around $3,400, while the fall Eco Fair made about $3,500.
"I had a lot of fun. We made cardboard cutouts and honestly, they were pretty popular," Senior Areesha Rahman said, "So it was fun everyone was coming up to the booth."
Rahman and the rest of her group created cardboard cutouts of various sizes for Eco Fair. Cardboard Creations, their company name, created the cutouts using a computer program to split up the image. Allowing it to print in multiple pages, then they glued it onto cardboard and cut it out.
"I got a Robert Pattinson stand," Senior Alexis Lenzer said, "Edward Cullen name pen, some slime, beach in a bottle and a Taylor Swift Fearless (Taylor's version) tote bag."
Lenzer spent ten dollars at the Eco Fair, and while she described it as crowded, she enjoyed the fair. Lenzer, who sold products at Eco Fair last semester, enjoyed buying more than selling.
"I hope that future bears get excited about it, now that hopefully COVID is behind us," McCarthy said, "We can keep that ball rolling and get people really excited."
Leave a Comment
About the Contributor
Alfred Dozier, Co-Editor-in-Chief
Alfred Dozier is a senior and one of three Editors-in-Chief of The Bridge. This is his third year on staff, and he loves every moment inside the newsroom....