Ghosting Snapchat
How Snapchat's social media relevance will evolve
First introduced as "Picaboo" in 2011, Snapchat is known to be a popular app among adolescents. Snapchat's trendiness comes from its user-friendly features such as posting to stories and its data-deleting technology which allows photos and chats to be deleted after they're viewed. The majority of today's teens have had Snapchat since middle school or earlier, but will we grow out of it?
Social media feels necessary to have in order to be included in society, and it will only continue to be more accessible and convenient. Snapchat, however, is not a typical app. Unlike the posting feeds on traditional apps like Instagram and Facebook, Snapchat has no permanent timeline. Its main form of posting is through stories that disappear after 24 hours. Additionally, if someone chooses to comment on a Snapchat story (commonly referred to as "sliding up"), only the sender and receiver can view it. These features distinctly unique to Snapchat are most likely the reason why the app has a majority of younger users.
The social media app is known to generally appeal to Generation Z, but when all of Gen Z graduates and makes their way into adulthood, will we still have time for Snapchat?
As Gen Z gets older, we've begun to realize there is less and less of a pull to constantly be on our phones and social media. The validation we once got from sending streaks has diminished, and posting on stories isn't interesting unless it's a private story with your closest friends. So really, the only thing keeping us tied to the app is how easy the app makes it easy to communicate with people. Plus, we all love being able to see the memories we made pop up after it hits the one year mark. After our teenage years are up though, I think we can all agree that it'll be time to move on.
With the foreseeable demands that life will bring after college, I wonder how or even if Snapchat will be on our minds. Will we be posting how we're applying for corporate jobs? Or updating our stories on what business attire we prefer to flaunt? Probably because that's all that we're used to, but at the same time, I just don't see Snapchat as a productive use of time after we're out of school. Even if we do keep it after college, we will be less active.
Musical.ly, for example, used to be a trending app because of how different it was than other social media platforms. From 2014 to its shutdown in 2017, the app was known for making dances and lip-syncing; letting its "musers" connect with their friends and share videos. However, the hype eventually died down and ByteDance bought the platform to make it into one of the most popular apps today: TikTok. In the rare circumstance that Snapchat does slowly become less relevant, maybe a remodeled version will keep our attention. Snapchat has already begun to take new steps such as the addition of "Spotlight" which copies TikTok's idea of a "For You Page" or Snapchat+ which gives users unlimited access to certain things by paying for the app.
Instagram just might be the next hotspot that our generation will move to. Why? Because it's already a commonly used app among Gen Z. Although many people use Snapchat to communicate with their friends like a replacement for texting, DMing on Instagram is just the same. Besides, Instagram's algorithm makes it easier than Snapchat to find mutual friends and to start or promote a business on the social media platform. Instagram's layout isn't as difficult to navigate, and the app allows you to connect with celebrities or share ideas in comment sections, which are features that Snapchat lacks. Additionally, Instagram incorporates the 24-hour stories feature similar to Snapchat.
There's a possibility we may never get tired of Snapchat. If we continue to utilize this app as a means to connect and document our lives, maybe it'll be our generation's version of Facebook. Snapchat's unique features means there's always something new to look at on the app. Whereas on other apps it might be seen as unusual to post on a personal account everyday, Snapchat is meant for posting that frequently. Snapchat encourages their users to "live in the moment, learn about the world, and have fun together" which is exactly how teens use the app. This platform is what we are familiar with and where we've stored our memories and childhood. Additionally, its chaoticity is what allows it to stand out from the rest of the social media world. There's no app like it, which is why it could stay on people's home screens for a lot longer.
With that being said, I still think Snapchat will soon become less relevant to this generation. Whether a newer app takes its place or another app simply grabs more of our attention, Snapchat will become a cherished app held only in our memories.
Leave a Comment
About the Contributor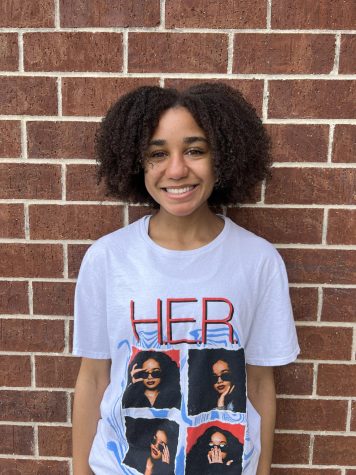 Charleigh Thomas, News Editor / Sports Editor
Charleigh Thomas is the news and sports editor for The Bridge. Although she stays pretty busy with clubs and basketball, she always makes time for her...