A push to the polls
How the League of Women Voters of Cy-Fair is helping register and educate new voters
Election Day (Nov. 8) is right around the corner, and a push to get citizens geared up to vote is in full effect. Many important positions are up for election such as U.S. representatives, state senators, state leaders, district-based representatives, state representatives and more. 
The League of Women Voters (LWV) of Cy-Fair took initiative of their own to get as many young voices to the polls as possible. On Sept. 30, several of the League members came to Bridgeland High School to speak to the senior class about the importance of voter registration. In every economic and government class, a League member assisted any senior in the registration process whose 18th birthday fell on or before Election Day. Important, nonpartisan information also got distributed to all seniors concerning their civic duty.
Anita Woolley, the Voter Service Chair of LWV's Cy-Fair League, served as one of the League members who spoke and assisted Bridgeland seniors. She says a driving force behind her membership to the League is to help young minds recognize the potential they have to make an impact by exercising their right to vote.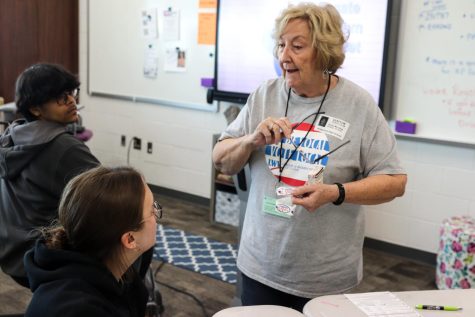 "I really believe in the power of the vote, and the right and responsibility of every person who is eligible to exercise that vote," Woolley said. " A lot of people don't recognize the potential power they have just by going to the ballot box. I've seen elections where elections were tied, and one vote would have made the difference…There are people who, generations ago, marched in the streets for people to vote, and I just don't want anybody to take that for granted."
With numerous positions and candidates to vote for, many voters cast their attention solely to the 'big-ticket jobs', whether that be the president and vice-president in a presidential election year or the governor and attorney general in a midterm election year. Woolley says although those roles are key to vote for, voting on all positions is crucial to having a say in decisions directly affecting daily living.
"What we are very much aware of is a lot of times people want to just vote at the top of the ballot," Woolley said. "To go down [the] ballot to the rest of the really important offices is not an easy task…There are all kinds of local offices that really make an impact on everybody's everyday life in the county. It takes time to learn about all of those candidates. But, it's important to know about them so you go in as an educated voter and you can vote all the way down that ballot like you're supposed to."
A way LWV tries to guide more informed voters to the ballot boxes is through their VOTE411 platform, a project that "provides nonpartisan information to the public with both general and state specific information" on a wealth of topics concerning the election process. VOTE411 also possesses a polling place locator that retrieves the poll location for the voting precinct according to the user's entered address. As Voter Service Chair for the Cy-Fair League, Woolley is heavily involved in the production of the local VOTE411 guide. She says the platform is an exemplary tool to ensure the voter demographic is as well-versed on the candidates as possible.
"At VOTE411, you can put in your name and address and it will pull up your ballot," Woolley said. "You will see all the races you can vote for, and then you can click on each candidate. The League [of Women Voters] makes very in depth, nonpartisan issue related questions. We send those questions out to all the candidates, and then they respond to us. When they respond to us, we put their responses into the format of VOTE411. What you see is exactly what they said. You can click on their names and see their positions on all of these questions."
According to the United States Census Bureau, although the 2020 presidential election recorded the highest voter turnout of the 21st century, it recorded the lowest amount of votes amongst those in the age group 18 to 24. Woolley says through the League's constant advocacy in the community and schools, they are trying to not only encourage young adults to break that trend and exercise their right to vote now, but to encourage it continuously.
"Research has shown when you're eligible to vote and you vote in the first three elections where it's possible for you to vote, you are much more likely to be a lifetime voter," Woolley said. "It sets the habit, and voting is a lifetime habit."
In an intense political climate, bipartisanship turns more into a power struggle than a coexistence every day. Conflicts, social issues and prejudices have arisen merely from what political party or candidate a person agrees with over the other. It's easy to try and avoid taking part in politics in an attempt to avoid the strife that is assumed to come along with it. However, Woolley says without the presence of as many young voices in the voting booth as possible, the end to the animosity will only be pushed further away.
"You are the future leaders," Woolley said. "It makes sense for you to be involved from the earliest possible position. You can't lead if you don't know the issues. And, if you are not involved, then what do they always say? If you're not a part of the solution, then you're part of the problem. Voting is the way you are a part of the solution."
To support the nonprofit organization's work to empower voices and defend democracy, click here to donate.
Leave a Comment
About the Contributor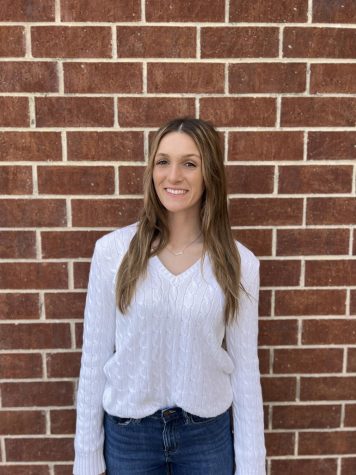 Haylie Stum, Co-Editor-in-Chief
Haylie Stum is a third-year staff member and is the Co-Editor-In-Chief of The Bridge. When not working in the journalism field, you can find her on the...