New CFISD elementary school sets procedures and protocols
On August 22, 2022, CFISD's Sue McGown Elementary officially opened its gates for the 2022-2023 school year for students within the Bridgeland community.
With more than 1,000 students and 108 staff members, the new facility is designed in a way to meet both the students' and the teachers' needs. Natural daylight, engaging classrooms and flexible spaces all play a factor in making the academic environment as productive as possible.
The school is named after Sue McGown, who worked for CFISD for 26 years and served in numerous roles throughout her teaching years. Students and staff are excited to get the school year going on the new campus.
The campus provides classes that can now be held outside and also focuses on reusing renewable items to reduce waste. Productivity and safety have been a few of the many main priorities of the school.
Due to recent events such as the Uvalde tragedy, according to Click2Houston, the safety and well-being of students and staff members have been a number one precedence since construction started. Extreme security measures such as officers at campus, keycard entries and secure vestibules have been established.
Officer Rodney Jones of Bridgeland High School shares his thoughts and opinions on the new school.
"Wells Elementary was overpopulated," Jones said. "McGown is a huge help with population increase in elementary schools."
Jones also highlights the importance of safety and maintaining proper security protocol in order to prevent harm.
"Keeping our students and staff safe is the most important thing in the district," Jones said.
According to the Houston Chronicle, the entire building took around $32 million to build. The majority of the funding is going toward safety and security enhancements, transportation, new facilities, technology, upgrades and renovations.
As a result of the shared busses throughout different elementary schools, there has been an increase in traffic and waiting lines of parents to pick their kids up from school. Jones provides further insight on the transportation system of different elementary schools with a new one being added.
"We communicate very well, different elementary schools share buses," Jones said. "It's new, and it's on a busy street. Once we can get accommodated and get used to how the traffic flows there, it will be quicker."
Jones reiterates his point that it is CFISD's number one priority to keep the students and faculty in an orderly and safe manner.
"In CFISD we strive to keep all schools, staff and property safe and in a secure manner," Jones said. "As long as the tools are used properly, it will be effective."
Leave a Comment
About the Contributor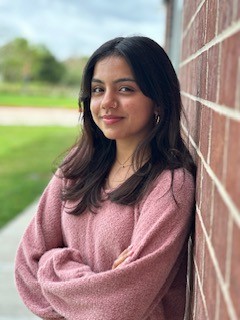 Lamiya Antaria, Lifestyle Editor
Lamiya Antaria is a senior at Bridgeland High School and a second-year staff member and Lifestyle editor for Bridgeland Student Media. She loves a good...