Teaching with kindness
Geometry teacher's positivity encourages students
Angela Bradley is always ready for the school day, ready to teach and ready to smile. Bradley has been teaching for 12 years and has loved her teaching journey, meeting kids and getting to spend the entire year with them. Spreading kindness and being positive has always been her go-to, making sure there is always a smile on her face even when it's hard.
Teaching in a room full of fun colors from the ceiling to the floor, she keeps these decorations up all year. Designed with math posters and notes so if a student forgets something, they can look for it on the wall. She shows part of herself in these decorations, but also ensures that the kids have a fun space to work.
"I decorate my room to create an environment in which my students feel safe and also one that sends a message that I care about what I do and what I'm passionate about sharing with them," Bradley said.
This bright teacher was inspired by her own geometry teacher when she was in high school. This is part of the reason Bradley decided not only to teach geometry but to also share her positivity with her students.
"She inspired my love for geometry and I wanted to share that same knowledge and inspiration to others in the same way," said Bradley.
Her classroom is intended to be a stress-free zone, with small cushioned seats so the kids can sit comfortably on the floor to her bright smile. Even the students who are hitting bumps in the road feel comfortable in her class.
"Going to her class everyday isn't a struggle for me at all; quite the opposite actually. I'm not scared to take tests in her class. In most classes I dread taking tests," sophomore Liam Logan said.
Bradley makes videos to explain areas of her students' struggles when they are not following a lesson. This encourages her students to look back on the videos to learn what they may have missed. On top of that, Bradley works with them during and after school hours
"I stay a little bit later for tutorials and I record the whole session that I have for the day before every test. And if a student can't make it, then they can watch from the comfort of their own home… I really think that's made a difference," Bradley said.
It's Bradley's goal to help kids learn at a pace they are comfortable with. She is very flexible with her students so they can increase their success rate.
"Being flexible makes my job easier, makes the student's job a lot easier, because they're stretched seven different ways. And then on top of that, if they do anything outside of class, they're stretched even more, so I think it'd be unfair to not understand that," Bradley said.
While Bradley has taught math over a decade and plans to continue teaching, she would also like to try something new.
"I'd like to be a teacher for as long as I'm able to. If my life situation changes, I would be okay with taking a break for a moment to explore astronomy again and getting my graduate degree in physics or applied mathematics. I actually really love science." Bradley said.
Just as Bradley's perspective on teaching is positive, she encourages students to explore what makes them happy. She pushes exploration of knowledge and implores everyone to continue to learn and smile all at the same time.
Leave a Comment
About the Contributor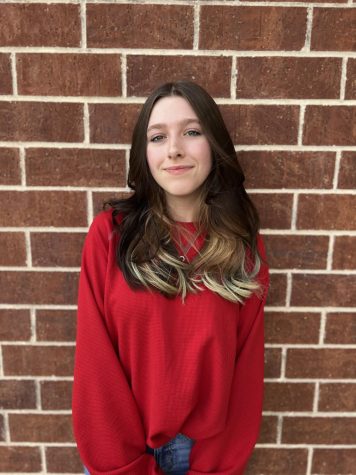 Madelyn Boyce, Reporter
Madelyn Boyce is a reporter for BSM and this is her first year on staff. She likes writing lifestyle stories and thinking of fun story ideas. Although...