Cupid's Rizz-tape
The Ultimate Song Guide for Hopeless Romantics

Romance, love, passion–arguably the strongest of human emotions. As humans, we're social creatures, and a large part of our social development is the dating scene. From your kindergarten playground crush to the cute guy at the gym, the infatuation that follows interactions with these subjects is euphoric. The cheeks flush, pupils dilate and the butterflies run rampant. Leaving these interactions isn't where the infatuation ends though. Many people resort to fantasizing about their crush in daily life, and a common means of expressing this adoration is music.
It's nearly impossible to turn on the radio without hearing love songs, and such songs can not only stimulate feelings of love, but can trigger an association with a specific loved one or "crush". Some may even send love songs to their crush to show them how they feel. There are few things in life as exciting as a crush, but one of them for me is a new song to add to my playlist– so why not combine the two? Here's my personal "hopeless romantic" playlist and each song's significance.
"Harvest Moon" by Neil Young
Coming in at number one, both on this list and as a contender for my wedding song, Neil Young's "Harvest Moon" is a dreamy ode to Young's long time lover. Deviating from most of the other songs on this list, this song specifically focuses on a couple who has presumably been together for a while and experienced true tests of love. What is more admirable than enduring the hard parts of a relationship and coming out the other end?
"Electric Love" by BORNS
"Baby you're like lightning in a bottle," encapsules the feelings of a crush perfectly. The rush of excitement and feelings that you can't let the other person go are so well described by this song in an upbeat, get-up-and-dance manner. Try not to smile listening to this song while thinking of a special someone. The album is titled "Dopamine" after all.
"I've Just Seen A Face" by The Beatles
This song is about love at first sight, a common adaptation for a crush as they are mostly characterized by the fantasy behind attraction and therefore not knowing much about the person. Leaving it up to the imagination to spiral and become infatuated with a crush is much more fun than it sounds, and this song is a perfect example.
"And I Love Her" by The Beatles
I promise, this isn't a Beatles tribute playlist, they just know how to write a good love song–and this one is my personal favorite. "I give her all my love, that's all I do", a simple sentiment but heartwarming no doubt. Kurt Cobain also has a somber cover of the song featured in his posthumous "Montage of Heck" album that I recommend.
"For The First Time" by Mac Demarco
"It's just like seeing her for the first time, again."
Admiration and attraction are big parts of a relationship, especially at the beginning during the "honeymoon" phase. Love at first sight is often disapproved of, as looks should make up a tiny fraction of your attraction for a partner. However, there is an undeniable, positive association with the initial introduction to a crush. Seeing them for the first time is unforgettable, and looking back you may reminisce on how you never thought it could develop into more. With that being said, going a while without seeing a loved one can feel unbearable, but "absence makes the heart grow fonder", which Demarco perfectly summarizes.
Leave a Comment
About the Contributor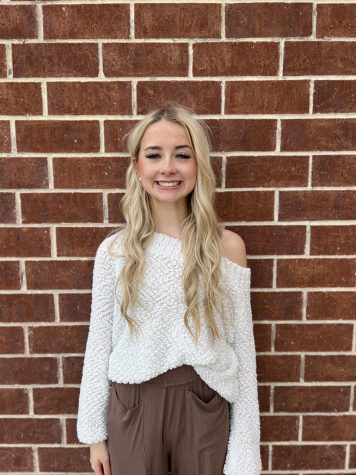 Grace Kirkley, Co-Editor-in-Chief
Grace Kirkley is a third-year staff member, and 2022-2023 co-editor-in-chief and lifestyle editor. You may find her in her spare time taking long nature...