Meet me at midnight
Students reflect on Taylor Swift's newest album, "Midnights"
Silence. It envelopes the bus in the cool morning air, a kind of quiet that only comes in the early hours of the day. Headphones on, she clicks play on her phone. A soft beat drops and the song begins, the voice singing being one she's spent her entire life listening to. Through country, pop, indie folk and now electro-pop, students reflect on Taylor Swift's 10th studio album, "Midnights".
"I think this album is really a brand new era even though it does reflect on past experiences," senior Jaycee Osina said. "The album ended up having many songs that sounded similar to songs on her past albums, but I was pleasantly surprised by the difference and how each song had a different feel than the others on the album."
Written and sung by an artist known for her versatility and often unpredictability, "Midnights" was streamed almost 500 million times in the first week of its initial release. The singer-songwriter announced the album in late August while accepting the award for Best Video of the Year at the 2022 MTV awards.
"When I heard about her new album I was already so excited because we haven't had new songs in a long time," sophomore Ava McKelvey said. "When I heard that it was called 'Midnights', I screamed. I thought it was going to be about past relationships and the nostalgia of what used to be, but Taylor took an edgy kind of pop [sound to] some songs but also a tragic, love take on some songs."
The songs, which Swift described as "…the stories of 13 sleepless nights scattered throughout my life" took the media by storm. However, this isn't the first time Swift has announced surprise music. In 2020 alone, she released two surprise albums, the first being "folklore" in July and then its sister album "evermore" in December.
"In her announcement [for 'Midnights'], she used very powerful phrases such as 'fateful life altering mistake' and 'in turmoil and in tears,'" senior Kate Howell said. "To read these words and to know what she's capable of based on previous albums, I had the expectation that this album would have an emotional depth similar to that of 'folklore' and 'evermore'. I was under the impression that this album would be one of self-exploration with many songs being heavy on the heart."
Following in its predecessor's footsteps, "Midnights" does bring that emotional, storytelling music that Swift is known for. Tracks such as "Anti-Hero" ring themes of self-loathing while tracks like "Lavender Haze" battle against societal expectations placed on women in relationships.
"The overall message of 'Midnights' to me is an insight of what it means to be a woman in 21st century America," McKelvey said. "Taylor told fans this album was a search for her identity, and after I listened to 'Midnights' to me it was a combination of romantic, dark, cold and lonely emotions that were channeled into these beautifully tragic songs."
However, the messages within the music aren't the only thing that differentiates both the songs from each other and "Midnights" from her other albums. Sonically, the album takes on a new sound from Swift.
"To be honest, when I went into it I was expecting so many things, so when I finally listened to it it was so different," freshman Hector Aguirre said. "I didn't really expect a pop album but that's what I got, but a lot of the songs work well together with the lyrics and production and it's just really smooth and nice to listen to."
New territory was crossed yet again when shortly after its release, Swift announced a deluxe version of the album named "Midnights (3am Edition)" featuring seven additional tracks.
"I had a feeling Taylor had something else planned, but I really was not prepared for seven extra songs," Osina said. "But I loved them. It was a super unexpected drop, but all the songs were so good."
"Midnights" is an album full of comfort and relatability that brings specific yet unique feelings to its listeners. Each song is a new chapter and thus brings a new emotion that listeners can relate to.
"[For me, that song] has to be 'You're On Your Own, Kid'. I've always felt more independent, and during the song she spoke about what I was feeling," McKelvey said. "That's the beauty of Taylor Swift. She writes what we feel in such a spectacular way."
Leave a Comment
About the Contributor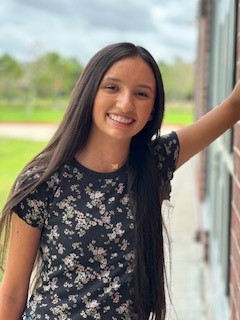 Ella Oberle, Copy Editor / Feature Editor
Ella Oberle is a junior at Bridgeland High School, second-year newspaper staff member and the copy and feature editor of The Bridge for the 2023-2024 school...