The clash of cymbals. The hum of violins. The chime of flutes. The buzz of trombones. All of those sounds and more twist together in the air, forming complex melodies that seep through the auditorium. Violas, clarinets and xylophones alike sit alongside each other on the stage as the conductor raises her hands, yet another practice that inches them towards their once in a lifetime performance.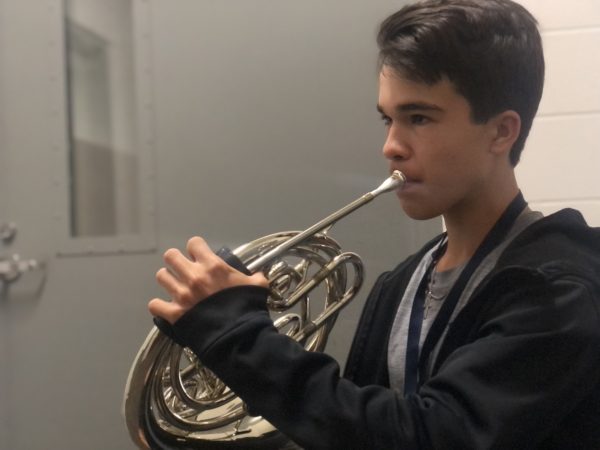 The Bridgeland Symphony prepares for their performance at The Midwest Clinic in December of 2023.
Established in 2021 by orchestra directors Sarah Lopes and Seth Freeman alongside band directors Brenton Marquart and Bailee Moore, the Bridgeland full orchestra combines top orchestra (string instruments) and band members (woodwinds, brass and percussion) to form a full symphonic orchestra.
"I think the full orchestra has exposed all of the instrumentalists on our campus to a ridiculously awesome genre of art music," Lopes said. "It has inspired harmony and collaboration amongst the students and provided an opportunity for our most advanced students to be pushed far beyond what we've been able to do in the past."
Performing in a full orchestra allows the students to learn a greater variety of pieces as they are no longer limited to orchestra or band specific music, and thus are able to grow their musicality and widen their overall lens of music.
"Playing in the full orchestra is definitely a whole different experience than playing in a regular band," junior French hornist and mellophonist Jeremy Schoonover said. "There's a stronger sense of professionalism because of the fact that we're able to perform famous orchestral specific pieces by well-known composers."
After submitting a recording of the symphony performing their spring 2023 UIL music, they were one of three high school full orchestras invited to perform at The Midwest Clinic. The clinic is an international event that consists of band and orchestral performances, award presentations, informational conferences and more. The event will take place on December 20 through December 22, 2023 in Chicago.
"Honestly, I was pretty confused when I first found out we qualified for Midwest," junior violinist Naiya Rodrigues said. "After we were officially informed about what Midwest was, I was extremely excited to think about the fact that we're going to be performing for an international audience; no one in the symphony has performed for an audience this large before so I'm sure it'll be a big factor of nerves before the performance."
The Midwest Clinic, which attracts roughly 18,000 total attendees, will not only have the largest number of audience members students have performed for but the event will be their lengthiest performance yet. Their presentation will include eight pieces of music across 45 minutes and has the general theme of nature. It will additionally include a "Home Alone" melody and feature John Morrison, the CFISD Director of Fine Arts.
"This music is diverse and exciting and some of the most challenging pieces these students will play in their high school career," Marquart said. "[Students] are also working with [peers] from different programs and backgrounds, so it is a wonderful opportunity to meet new people."
Not only will learning and performing the music itself impactful for students, but the experience of seeing other musicians perform and teach will be invaluable.
"I hope our students get a sense for the larger national community of music makers that are all working in very different settings towards similar goals," Freeman said. "I [also] hope that we [not only] reach the lofty artistic goals we've set [but] that the experience is a fun one with lots of growth."
Performing at Midwest will not only be a notable experience for students, but for the directors as well. Marquart will follow in his mother's footsteps of conducting a band at The Midwest Clinic. Also, Lopes will return to Midwest for a second time, only this time as a conductor instead of performer.
"It's hard to put into words how I feel about returning to the Midwest stage," Lopes said. "I can't think about my own experience performing there without immediately thinking of the connections I made with my fellow musicians and especially my professors. They pushed us and profoundly cared about our musical development as well as cared about us as people, and I can only hope my students experience a fraction of that. I feel a huge sense of responsibility to them to ensure they can enjoy Midwest to the fullest extent. They're just really awesome people and [I] want the best for every single one of them."