From the court to the field.
From the pool to the turf.
And from the dirt to the mat.
It's all the same when that whistle blows or air horn sounds.
Bridgeland is home to a plethora of different sports, many of them running alongside each other during the same time of the year. In fact, the home of the bears is also a home to every sport in the University ScholasticSchoolastic League (UIL) Athletics section that have been allotted for high schools.
Every one of these sports are different in their own ways, yet the seasons they play during according to UIL may be the same. The league allows for play around the state and for schools to battle in championship, but due to the school year and timing can lead to non-traditional timing in certain sports.
Sprinting to the games, then, can leave those new to play and spectating boggled at what times the seasons at Bridgeland start and end both in and outside of district play. To make things easier to find and remember, all information is available on the CFISD Athletics site and also the Bridgeland High Athletic Booster Club site. Similarly, all current information will be echoed below in order of season by school year.
All links to available calenders provided by the Bridgeland High Athletic Booster Club are attached to each individual sport. If they are not yet available, a link to where they will later become available is provided.
Cross Country (Fall season)

Cross country is mainly comprised of long distance running, a stamina test in all conditions. Bridgeland has both a boys and girls cross country team in its arsenal, and the UIL season the team follows is very closely aligned to professional cross country's season in Texas.
Due to the extreme heat in the summers and the bitter cold of the winters, running in the fall is an essential for keeping these runners cool but also not freezing in both the high school and professional running world. Therefore, running is kept largely to the fall season for both parties in this state.

Football (Fall season)

Football is a test of stamina, strategy and willpower from the viewpoint of the player, leading it to become America's sport of choice for entertainment. Football is enjoyed in the fall by Bridgeland's team, summer practices often opening the season before diving deep into the games.
Like cross country, Texan teams generally try to stray away from summer and winter play unless absolutely necessary or indoors. In this way, the UIL schedule set for the team roughly echoes the season the National Football League (NFL) plays. Their league normally begins in early September and ends in January, both high school and professional starting around the same time. However, the NFL tends to go further than high school football for a few months due to its amount of teams and games it must hold.

Swimming and Diving (Fall season)

Swimming and diving are both aquatic sports composed of style, speed and longevity. While taking place according to high school between fall and winter because of its indoor nature, many professional swimming units perform year-round.
Professional swimming and diving competition seasons range from fall to spring for the most part, but it is not uncommon to find examples of spring to fall seasons as well. However, due to UIL, this high school season is largely contained to the winter and the months surrounding.

Volleyball (Fall season)

Volleyball slaps, seriously. The sport contains spikes and dives for hits that seem impossible to catch, the ball volleyed over a net between two teams. The volleyball season in high schools here tend to mirror the professional indoor volleyball seasons as well.
In high schools, the UIL dictated season tend to stick largely to the fall months, the only difference being that professional volleyball delves just a little more into the late summer months.

Water Polo (Fall season)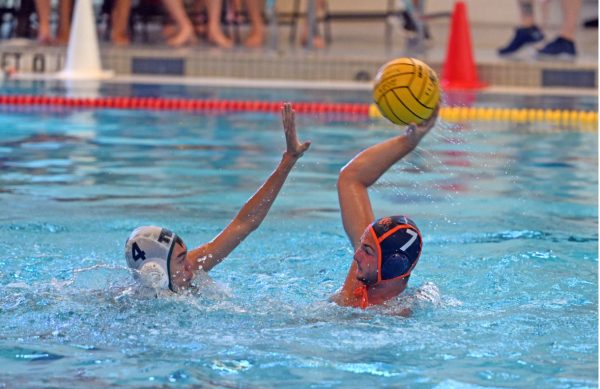 Similar to the net sport above, water polo is the cross between elements of soccer, swimming and volleyball. The ball is moved by hand and thrown into the opponent's net, all done while floating and swimming through the water.
Like swimming and diving, because of its indoor nature of the pool, UIL often keeps water polo confined to fall months. This is no different in the professional and collegiate world, water polo mostly considered in competition to be a fall sport.

Basketball (Winter season)

Basketball (seen at Bridgeland for both boys and girls) was originally born as an inside sport, created to keep athletes working and playing while indoors during the harsh winter conditions. Needless to say, this tradition has been kept, high school players' seasons staying in the winter months almost exclusively.
The same can be said for both collegiate and National Basketball Association (NBA) games, these seasons often running from October to April. Like football, the original season is stuck to by UIL, but slightly elongated due to having more teams needing to face off.

Wrestling (Winter to spring season)

In a similar light, all wrestling requires is a mat, strength and a referee. This sport is most often practiced indoors, so it is easily able to be performed in the winter. UIL has recognized this, sticking its high school competitions in the middle of the season to fill in the blanks between warm-weather sports.
Staying true to the professional seasons, which start anywhere between October and November and end around March, the UIL sports season experienced by students mirrors the actual sporting events.

Baseball and Softball (Spring season)

Both baseball and softball are an American treasure, especially down here in Texas with the Houston Astros and all of the famed collegiate teams. As an opener to spring on the red dirt, it's no surprise that this sport is best enjoyed out in the sun on a warm day. According to UIL's schedule, due to having to perform while the team is enrolled in school, these two sports occur in the spring.
In the professional world, however, these sports tend to range more from the spring to the fall. Softball tends to be more summer-oriented, focusing more of their games in July than any other month, but both sports span over the course of the year discounting the winter.

Golf (Spring season)

Golf as a whole is a sport that must be played outdoors, so it's no surprise that golf is placed as a spring sport by UIL standards. Bridgeland has both a girls and boys golf team, seen working and playing around the early months of the year.
This is a little different than what the Professional Golfer's Association of America (PGA) has set its route to look like. The game of professional golf is actually a year-round event, having thinner months throughout the year as opposed to a three-month tour.

Soccer (Spring season)

Bridgeland soccer is split into both boys and girls teams, playing exclusively in the winter and spring months. Just like many of the other sports on this list, outside of the school sports, playing club sports is very common during the off season for students looking to continue to gain skills and games.
This is able to occur outside of the school's spring season due to the large ability for soccer to be played both indoors and outdoors. Soccer itself, also, is considered a professionally year-round sport.

Track (Spring season)

Track and field is the broad spectrum of events performed by a plethora of students outdoors during the spring time. From distance and speed events to throwing and jumping events, there is a little something for every athlete in track and field. Considered for both its boys and girls teams, track and field is mostly pushed into the spring by UIL standards.
In terms of professional track and field, there is really considered an indoor season during the winter and an outdoor season during the summer where the different events are placed.

Tennis (Both fall and spring seasons)

Currently, the tennis team is making its final games of its fall season, the spring season yet to come. Just like professional tennis, the rackets never rest, both sports featuring year-round events and playing times.