Theater students qualify for national competition
After a long bus ride from Grapevine, Texas, Bridgeland Theater came home on November 17 with 29 Texas Thespians National Qualifiers.
Junior Makayla Nyc qualified in costume design and explained everything that came with what she had to accomplish.
"I had to create five templates which all of them had to be renderings of individual costumes. I had to have fabric on them, create a binder with the scriptions of the play, the story line basic information about it, all of the costume changes throughout the entire show and why I picked every outfit," Nyc said.
For sophomore Janson Hanes, this was his second trip to Texas Thespians Festival but his first to compete in a national-qualifying event.
"Thespians is just such a cool experience, you meet new people there from  all over the whole state, and it's a new experience that everyone should be able to have," Hanes said. "You always have fun and there's never a bad time, getting to go to all of the workshops. It truly is a good time."
Hanes' qualifying event was solo musical. He performed a song from  "35 Millimeter" and explained how he prepared for his solo. Juniors Alexandra Walls and Macennah Crawford qualified in the same event. He said that a lot of work went into preparing for the event.
"Hours, upon hours of just practice and watching the show, and building my vocal technique and just lots of practice," Hanes said.
According to Hanes, this festival is an opportunity all theater students should take advantage of.
"Yes, anyone who's in theater anyone who has even the slightest change to go," he said. "Try for it, push for it, it is an unforgettable experience."
Hanes shared the experience of finding out the results for the national qualifiers while he and his troupe members were celebrating sophomore Matt Leazer's birthday.
"Like it's crazy, the list was coming out, so you know it was a bonus if we made that, then we would all be happy," he said. "Everyone was in their room and all of a sudden Jocsan [Betancourt] comes sprinting down the hallway saying 'nationals are in!' and everyone was yelling, jumping and screaming and it was really cool. It's a feeling I never want to forget."
The International Thespian Festival will be held at the University of Nebraska-Lincoln June 24-29, 2019.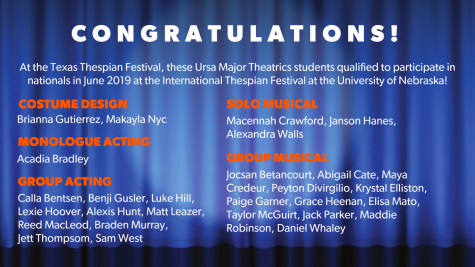 Courtesy of Steven Murray