Handling a new challenge
Freshman takes on life after Functional Neurological Disorder diagnosis
More stories from Della Fowler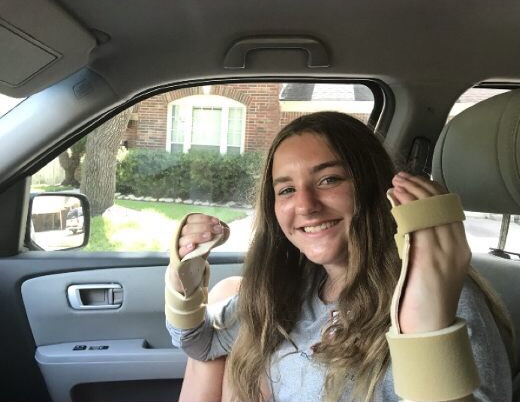 "I didn't want this to happen," freshman Jacilyn Averill said to her mother while sitting in the hospital room. The diagnosis was Functional Neurological Disorder as a result of a head injury from a car door. She felt the emotion take over her whole body tingling from the tip of her toes to the hair on her head.
How would she go on? What's next?
Jacilyn (Jaci) stayed at a friend's house during an average summer weekend while her parents were away. Just a ordinary trip to Buc-ee's, Jaci climbed out of the car and her friend, without realizing it, slammed her head in the car door.
"I didn't tell my parents right away that I got my head slammed in the car door until I started complaining of headaches," Jaci said. "I didn't really think anything of it, I just kind of kept living life."
After a restful night, she woke up to pain starting from her wrists all the way to her fingertips. Her symptoms were discomfort when trying to perform normal tasks like writing or eating. Her mother took her to Texas Children's urgent care,but the only thing the doctors could conclude was that she was weak in her arms. The doctors suggested she visit Memorial Hermann E.R. Finally she'd arrive to a place where she could get some answers, but the four Memorial Hermann doctors couldn't figure out what was wrong, and assumed that it should go away in a few days.
Wrapped in her blanket, Jaci held her weak and shaking hands in her lap on the way there. All she wanted to do was sleep and forget about the new challenge ahead.
The doctors sent her home with pain medicine and a suggestion to visit the medical center downtown. Then, the next day while volunteering at a program called Reach, she made the trip to yet another hospital.
"I kind of thought it was all just a nightmare," she said, "or maybe I was just crazy of maybe there was something really seriously wrong."
After visits from four doctors and a few medical students, they suggested either low electrolytes or cramping of the hands. Then, the doctors decided before advancing in any other tests that she needed to visit a neurologist.
The neurologist theorized a few possibilities as to what the condition could be.The diagnosis was either Functional Neurological Disorder or Clenched Fist Syndrome, both of which cannot be detected on a CT scan or an MRI. Since Clenched Fist Syndrome only occurs in one hand and Jaci's pain was in both, the neurologist diagnosed her with Functional Neurological Disorder.
"I was like 'What does this mean?' because at this point I was still in my little splints and the next two days I was going to have a [athletic] training thing to go to," Jaci said.
After the diagnosis, her world flipped upside down. Instead of going to the doctor twice a year, she now went to the doctor at least two times a week visiting an occupational therapist. The goal was to get to the point of being able to do things by herself, like normal.
"She [Jaci's therapist] was very confused because you usually see people who had just gotten surgery done… and little kids," Jaci said, "You don't really see 14-year-olds who get their head slammed in a door coming in with two little forest-green splints going 'good morning,'"
Now, she is a lot closer with her family, is an athletic trainer at school and has a different outlook on life. The condition taught her to be slower to judge people and not take the small things for granted. Her sister, Samantha Averill, explained how it has helped her family.
"It was hard always going to the appointments or always having to help her, but it's like helping her has helped us stay together," Samantha said.
It also helped her reflect on how she lives day-by-day life. She feels like her condition has helped her become a better version of herself.
"I would still choose to have it because it's what makes me 'me' and makes me stick out from other people. I don't want to just be some blank face in the crowd that doesn't really have a story," Jaci said.
The doctor's say the condition will never get better, and she knows she'll never be the same. Her goal for what's next is trying to manage and live with the pain. She has no regrets and is very thankful for all she has.The condition scares her but she isn't going to let it stop her from achieving her dreams of working in the medical field and going to the University of Alabama.
"It was scary, but you know it's life," she said. "It's bound to happen to somebody and it happened to me."
Leave a Comment