Spike of Growth
Freshman volleyball coach takes on new position.
Coach Liz Oyervides is in her third year coaching at Bridgeland High School. As the girl's freshman basketball coach Coach O, as she is called by her players, has had her share of success. In her first year, her team won district and played a vital role in the girls' varsity team, who made the first playoff appearance in school history. Coach Oyervides knows what it takes to achieve success, which makes this year's challenge so unique. This year Coach Oyervides was asked to coach both the freshman B volleyball teams with no volleyball coaching experience.
"The opportunity was offered by Coach Khalil, and I thought it was going to be a good way for me to grow as a coach," Coach Oyervides said. "I went ahead and took the challenge."
Even though Coach Oyervides didn't have any experience and only knew a few basic volleyball terms, she took the challenge head on. Coming into the 2021 volleyball season, she took on a difficult challenge and learned the game of volleyball in a matter of weeks. She adapted quickly by putting what she already knew about coaching basketball into coaching volleyball.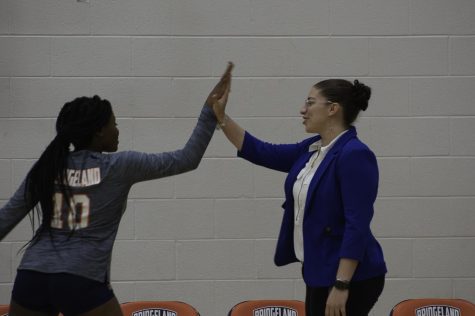 "I mean, she didn't really have experience," freshman Katy McQuaid said, "but she knows how to coach, and she knows how to deal with teams."
To her players, her limited experience didn't matter. They trust her ability as a coach and her positive mindset, and it is paying off this year. The freshman B team's overall record is 19-4 and 12-1 in the district. Positivity goes a long way in the sports world; it can produce team spirit, a great team environment, and positive player attitudes.
"She's very positive, doesn't really have negativity, like she brings a positive atmosphere to the team, and always encourages us, and she's helped me," freshman June Griffin said.
By nature, Coach Oyervides is optimistic and has the patience to allow her team to grow as a team and individually, which has tremendously affected her players.
"I appreciate Coach for shaping me into a better athlete," freshman Maiya Pearcy said.
Coach Oyervides had a great year and made tons of memories, from winning 19 games in her first year in , on her way to possibly winning district, all in her first year coaching volleyball. This is nothing new for Coach Oyerides. She never backs down from a challenge and always puts her players first. For her basketball players, they've come to expect this type of success from Coach Oyervides. This is all new for her volleyball players. They now realize what her basketball players already know; she's always looking to put her players in a position to be successful. It doesn't matter if you're a starter or coming off the bench; the basketball players value her and how she cares for the overall team success.
"Everyone has contributed this to my growing year, in a sense," Coach Oyervides said. "It's been awesome."
View Comments (4)
About the Contributor
Madison Clay, Reporter
Madison Clay is a junior and in her second year on staff at Bridgeland High School. Madison is a member of the Bridgeland girls basketball team and enjoys...