Five relaxing spots near Bridgeland
The perfect spots to unwind and spend some time with yourself
5 Relaxing spots near Bridgeland
With school, extracurriculars and maintaining a proper sleep schedule, it's often easy to get lost in the daily cycle of life. Sometimes it's beneficial to sit down with a good snack, an entertaining book and a fantastic view. Many people find nature as a huge stress reliever that leaves them refreshed and with a new take-on-the-day mindset. According to Ecopsychology, "(Nature) as long as people feel safe — is an antidote for stress: It can lower blood pressure and stress hormone levels, reduce nervous system arousal, enhance immune system function, increase self-esteem, reduce anxiety, and improve mood. Along with nature, a nice, aesthetic coffee shop could even do the trick. Luckily, Bridgeland is a place with good views, good food and good people.
Let's start with a relaxing spot to recharge your mind and body: Oak Meadow Park. A lake, a playground and a place to sit with a nice picnic mat would be perfect to help destress and relax or doing precalculus homework for that upcoming test. Either way, whether you're spending time with a loved one, hanging out with friends or taking a nap, this place is the perfect spot.
Another spot good for relaxing and de-stressing in is Josey Lake and Bird Sanctuary. The view of the sunset from the bridge is to die for. But besides that, there are benches to sit on, a trail by the lake to bike or walk on, a playground and an entire area of grass to sit on. The shade of beautiful trees and the fresh breeze from the lake will provide you with just the kind of relaxation you need. With the light chirping of birds and the sound of the bushes rustling, Josey Lake and Bird Sanctuary is just about perfect for nature lovers and people who need a bit of silence to think.
To keep the streak going for parks, the Bridgeland Treehouse Park is also an ideal place to unwind and spend time with yourself. With life going too fast and never stopping, it is easy to lose touch with yourself as an individual and forget that sometimes even you need a break. The Bridgeland Treehouse Park provides just that if not more. The Treehouse itself is built beautifully and you can trail around it alone while listening to music or hanging out with others. The Treehouse is surrounded by lush green trees (with bonus oranges, yellows and browns if you decide to go in the fall) and a calm aura.
Along with nature, you would also need a good drink to accompany you. With demand for bubble tea on the rise, the Vogue Bubble Tea and Coffee Bar is not only relaxing but is also aesthetically pleasing. Little decorations and the dim lights make it perfect for whether you want to focus on studying or relax. With a variety of espresso drinks, smoothies, tea, lemonade, pastries and fruit bowls, the Vogue Bubble Tea and Coffee Shop sets the mood for a relaxing morning, afternoon, evening or night.
Who doesn't love a nice breakfast by the lake? I'm sure most of us would love that. In that case Coco Crepes, Waffles and Coffee by the Boardwalk at Towne Lake is the perfect place to go and enjoy crisp Belgian waffles that melt in your mouth and oreo cheesecake crepes that will send you to heaven. Coco offers paninis, waffles, crepes, frappuccinos, mochas, lattes and much more. On top of that, you get to sit outside and enjoy the breeze. Coco sets the mood of "it girl" on Pinterest with her books who is always on top of her work. Coco provides delicious food with a cute setting and a good view. It's a win-win for me.
Last but not the least, let's talk about another endearing and aesthetic coffee shop for all you coffee lovers: Plum Coffee Shop. It is just the way it sounds, adorable, calming and aesthetic. It is a perfect place to bring a good book and enjoy a cup of hot, (or cold), coffee. Along with panini sandwiches, breakfast sandwiches and pastries, Plum Coffee Shop offers a variety of different coffees. From lattes to mochas, you can have a good old fashioned cup of joe and enjoy your own company with a calming, lightened aura. To find out more about where to go to relax and study, check this coffee review guide on the BHS The Bridge Website.
Leave a Comment
About the Contributor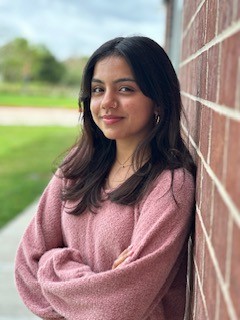 Lamiya Antaria, Lifestyle Editor
Lamiya Antaria is a senior at Bridgeland High School and a second-year staff member and Lifestyle editor for Bridgeland Student Media. She loves a good...