Back With a Vengeance
How baseball and softball prepare in the offseason for 2021 play amidst season cancellation
Focus. Determination. Grit. These are the core values instilled in the athletes of the baseball and softball programs. But what happens when your focus goes from playing to sanitization, when your determination strays from being positive to avoiding a positive COVID-19 test result, and your grit is ultimately tested with the cancellation of your season? These are the questions the baseball and softball coaches face every day and are optimistically trying to answer.
Embracing change is difficult on its own, let alone the absence of closure, a "new normal", and establishing trust among the ones around you. Coaches Paul Orlando and Candi Weige try their best to give their athletes the tools to rise above it.
"We really make sure they understand how important our work is right now because it's something you never really talk about as far as a season-ending. You always think play hard, do everything you can, you never know when the last day is going to come. But, everybody thinks that when you graduate or when you get injured, and no one thinks of the uncontrollable like a virus or pandemic that hits and ends everyone's season," Coach Orlando, the head baseball coach, said. "I think it's a wake-up call, and I think our kids are responding well in the offseason. They're working hard right now and I think we are maturing up a lot. We expect to have a good year next year."
The baseball team sports a grey shirt every day with the words "Embrace The Storm" printed on the back as a reminder of this implementation.
"We've talked to the kids about "Embrace The Storm" since we've started here because things are always going to happen. Storms are always going to come. Things are always going to happen. So what do you do? How do you fight through it? How do you respond to it?" Coach Orlando said. We've always talked about it in the past, so obviously I think that it's bigger than ever this year because of what we are dealing with."
For head softball coach Candi Weige, she encourages the team to stay in the present as they push through the offseason and approach tryouts.
"I think that we're trying to continue to focus on looking ahead and not looking behind. We always tell our girls that no matter what is going on or what happened in the past, we're still going to move forward," Weige said."Everyone at this point is expendable, and so we make sure that we're rotating people in and out of positions and that we have quality bodies in every spot on the field and in the lineup. So, self-care and taking care of each other is the most important. We just want to make sure that everyone is doing their part on the field, including myself and my coaching staff in order to make this year successful."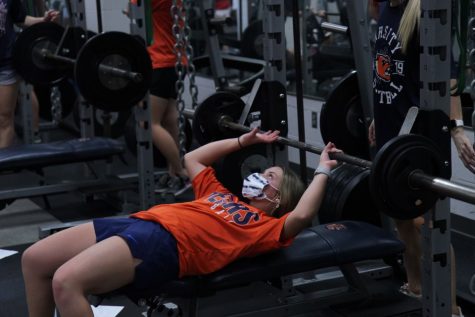 The offseason hasn't come without difficulties and limitations. COVID-19 protocols hugely impact how these programs approach their offseason workouts. With such hands-on sports, the frequent cleaning of equipment and self-sanitization take time out of already short and precious practice time. Maintaining social distance while working out also plays a huge role in tampering with how softball and baseball are able to practice. Coach Orlando worries that being distant doesn't only affect the structure of the offseason.
"I just think it's harder being spread out and not being able to do certain things. I'm more concerned with the team bonding and the kids being together while apart. These are the kinds of things I mostly worry about because the intangibles, like team chemistry, you can't make up," Orlando said. "Some teams have it or they don't, so I worry about that a little bit. We're still trying to do things to where they can still feel that closeness by still being spread apart in everything they're doing. But obviously, everyone is in the same boat. No one has an advantage in that. Everyone is dealing with that."
The baseball and softball programs at Bridgeland continue to try to see their situation in a better light. With the UIL implementations, both Coach Weige and Coach Orlando try to utilize the two to three times a week they are allowed to work out after school in order to make up for lost time.
Although the pandemic threw a wrench in the programs' plans, Coach Weige noticed that the quarantine has allowed her girls to become more independent and display leadership within themselves. Baseball assistant coach Cody Weatherly along with Coach Orlando attended more coaching clinics over the extended break. They also incorporated elements from Division I baseball programs in the weight room and on the field to enhance their performance.
Even throughout the setbacks brought on by this global pandemic, the standards of the Bridgeland baseball and softball programs haven't budged.
"We always set goals for the season in January, and that's not going to change. The main expectation is we want our athletes to always be seen as hard workers, people with good ethics and morals, and people who display leadership around the school and on the field. So goal-wise, it's always going to be around the same. However, I definitely think that growth is always an option for us and being able to push forward and see a bigger future," Coach Weige, the head softball coach said.
For Coach Orlando, he expects nothing less than a district championship at every level- varsity, junior varsity and sophomore. He makes sure to integrate this goal with how they run their workouts.
"We try to do as much competition as we can. I think kids love to compete, and we want a team full of competitors. We want our kids to be a better competitor than they are a player. If they're a really good player, we want them to at least match that or have more intensity as a competitor, and if they're all like that, we'll be fine," Orlando said. "I know we'll have that same winning mentality when we get into the game."
The Bear athletes and coaches are doing everything in their power to stay safe and be as effective as possible with the cards they've been dealt.
"All they want to do is enjoy playing their full season," Coach Orlando said. "They've worked so hard, and they want to see their season end on a high note amidst all this."
Leave a Comment
About the Contributor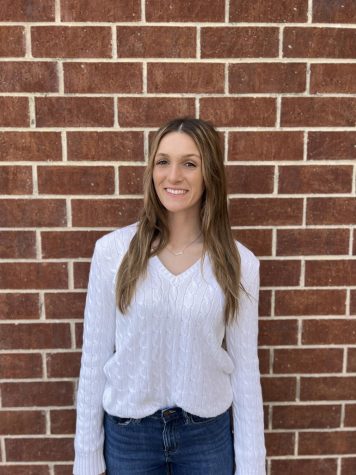 Haylie Stum, Co-Editor-in-Chief
Haylie Stum is a third-year staff member and is the Co-Editor-In-Chief of The Bridge. When not working in the journalism field, you can find her on the...