The Ultimate College Application Guide
College applications are a breeze with the help of this in-depth guide for all things collegiate.
Senior year. The one everyone looks forward to. The "blow-off" year. Less homework, easier tests, and no stress. Or so you thought. Senior year isn't breezy and wonderful just yet- there's one last mountain each student must climb before reaching high school heaven: College applications. Even if only applying to one school, you have to worry about countless essays, letters of recommendations, resumes, and the dreaded FASFA form. It's a lot to digest for barely-adults with poor organizational and time-management skills, but with the right plan and information, any senior can knock out this Goliath of a task. After completing ten college applications thus far, I know a thing or two about applying. So, without further ado, I present my College Application Guide for Dummies, complete with essay writing tips, completion timeline, and checklist for every senior drowning in the abyss of forms and prompts.
Writing
1. Avoid passive verbs
Using active verbs keeps writing concise and professional. Passive verbs aren't technically incorrect, but they're frowned upon. This tool will especially come in handy when trying to trim essays for a word count. Example: Regina George was hit by the bus. → The bus hit Regina George.

2. Always write the truth.
I understand- colleges will never know if you actually volunteered at the soup kitchen all summer or not. It's easy to embellish stories and exaggerate facts to make yourself look better to colleges, but that's what every other kid in the country is doing, too. Writing a fake story will produce a fake voice. Phony writing comes off as shallow and it's never as good as when you write about something you can actually draw from. Your story may not be as impressive, but the writing will be more authentic and sincere and ultimately pay off.
3. Showcase your strengths
Obviously, the main point of any college essay is to prove why you are worthy of being admitted. So, when telling a story or answering the prompt, make sure you include how your special skills and traits relate to this topic, or a valuable lesson you learned from an experience. The what and the how of every essay are important, but the why is most crucial when it comes to admittance.
Resume
1. Take out all first person pronouns
In websites like the Common App, the activities and leadership descriptions are often limited to a couple hundred characters. So to get the most bang for your buck, take out all first-person pronouns and avoid complete sentences. 
2. Quantify your accomplishments
Colleges love to see real numbers behind things you've done in high school. It strengthens your resume and proves that these are real things you've worked on, not just general ideas of stuff you were involved in. For example, if you organized the canned-food drive, you could say you helped donate over 20,000 cans to the Houston Food bank.
3. List in order of importance
Within each sub-category (honors and awards, leadership, extracurricular involvement) make sure to list your accomplishments in order of importance. This ensures that colleges see the most impressive things first and helps tighten up the organization. For example, if you were a National Merit Scholar and also received Honor Roll for three years, you would put National Merit Scholar first.
4. Make it look pretty
This is a simple one, but one of the most important as well. Make sure to use simple, clean fonts, little to no color, and bold the headers or subtitles. Try to keep the fonts and font sizes as uniform as possible to make your resume visibly pleasing and professional.
CHECKLIST:
Complete resume

Request letters of recommendation from teachers

Submit ACT or SAT scores to schools you're applying to.

Finish all admissions applications

Complete FAFSA form

Submit honors college or scholarship applications.

Complete housing application for the school you choose.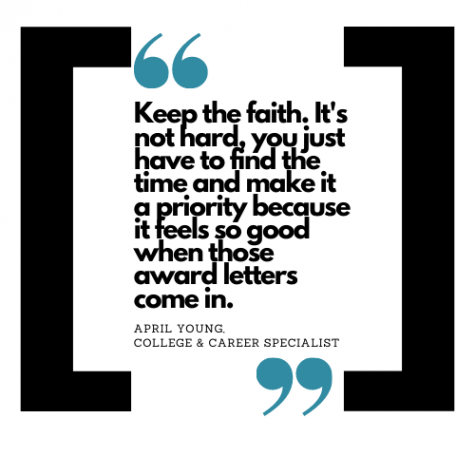 GLOSSARY:
FAFSA– The Free Application for Federal Student Aid is a form that evaluates your parent's income and family situation and determines how much money the government should award you for college. They offer loans, grants, and Work study programs. Even if your family is well off, you should still fill out the FAFSA because the government is likely to award at least some form of aid.
Early Decision– Early Decision applications are binding contracts with the college you are applying to. If you are admitted to a college you apply early decision to, you automatically have to go there. This application is good for someone who knows the college they want to go to for sure and aren't interested in any other options.
Early Action– Early action is a non binding application but has an earlier application deadline. If you apply to a school early action, you will generally hear back from them sooner but you aren't legally obligated to enroll there if accepted.
Regular Decision– Regular decision is just a normal application. It is non-binding and the deadline is later, so you'll generally hear back from admissions in the spring.
Test Optional– If an application is test optional, it means you do not have to submit an SAT or ACT score in order to be admitted. However, if you have a good test score, you can send the score even if it's test optional.
Holistic Application– If a college says they have a holistic application process, this means they look at all elements of an application equally. GPA is no more important than ACT scores or essays, and vice versa. Basically colleges focus on the student as a whole instead of individual qualifications.