Three seniors compete at area choir competition
Seniors Abbie Benton, Isabella Guzman, and Audra Munro competed Jan. 13-15 at the area level for a place in the Texas All-State Choir. Guzman was chosen to advance to the Texas All-State Choir.
Benton, Guzman and Munro auditioned for state, also called Texas Music Educators Association (TMEA), a convention that takes place in February each year. Competitors audition through the regional and area level to receive a place in the All-State Choir.
"This year, instead of going to a CFISD school and waiting all day to audition, we got to record our audition over a period of four days, so we got to turn in our best audition," Benton said. "That made me feel a bit better, but it is still nerve racking."
With the COVID-19 pandemic limiting school events and competitions, auditions for All-State moved to an online platform, rather than in-person. A program was set up for these auditions in order to make it fair with these rules: no autotune can be used and competitors can record their song over and over until they find the perfect recording. Munro said this can be an advantage for some people, but a disadvantage for those who perform better under pressure.
"I've noticed that it helps when I have the intensity factor on my side, because in the past when I'm in the comfort of my own room, it's not the same," Munro said.
Practice for choral competitions started before the school year. Choir students received about eight songs to memorize in May, and had until September to memorize and perfect them. The music they received are collegiate, or professional level songs, all classics from composers like Motzart, Haas and Brahms. Guzman said she spends at least two hours a day practicing.
"Of course, implementing style and peace is definitely a lot of work," Guzman said. "but I find a lot of joy in it. So, the time passes, and you know, I have a lot of fun."
All three girls have high hopes for this competition. Munro hopes that their journey to All-State boosts the morale of Bridgeland High School, and that it will promote people to join the choir program. Guzman hopes that their success will display how hardworking members of the choir department are. Benton hopes that in the end, their winning will bring everyone together.
"If I do make the All-State Choir, I hope that we get to have an actual concert," Benton said. "The only times I have gotten to hear these beautiful songs are either online or me singing only my part, and I would just love to get to sing it with a big group."
Leave a Comment
About the Contributor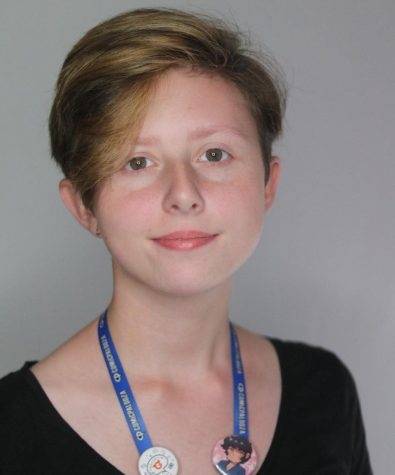 Brianna Keller, Reporter
Brianna Keller is an artist, journalist, and daydreamer. By day, she writes stories and cracks jokes with her friends, dreads homework and pesters her...